20 Best Angular Material Design Tools for Web Developers

November 14, 2018

Line25 is reader supported. At no cost to you an affiliate commission may be earned when a purchase is made through various links on our site. Learn more

Looking for the best Angular Material design tools for web developers? We found some of the most popular, which include template designs, code snippets, plugins, prototypes, pop-ups,  models,  navigation, and more. 

This article is a time-saver, considering you'll have an amazing collection of premium and free tools, for different purposes, all in the same spot.

Angular Material design includes stunning well-designed components, which are based on Google's Material Design specifications.

Here are our recommendations. Use these tools to ease your job and to create outstanding web and app designs. Enjoy!

Here is an excellent website where you can find useful UI components that will help you build professional applications in a few easy steps.
Pin
This website includes lots of well-designed UI components which are based on material design. Find out more about AngularJS and use it to improve your projects.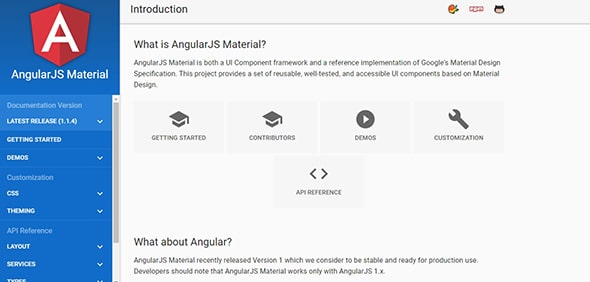 Pin
Have you ever wondered which one is better? This is an excellent comparison between angular material and material design lite. Check out the results and see what new things you can learn.
Pin
Follow this link and you'll find a lot of amazing Material Design tools which are compatible with AngularJS.
Pin
This is a starter application which you can download, and settings for your own purposes. You'll get the code lines, for a quicker result.
Pin
Teradata Covalent is an excellent UI platform which was created for designing professional desktop web apps.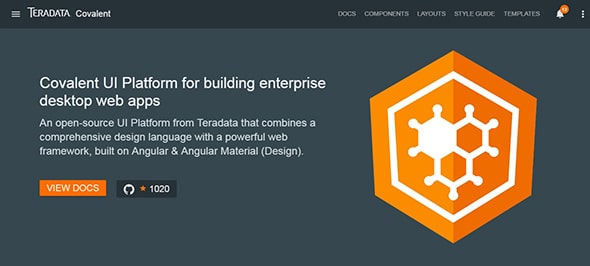 Pin
If you want to learn more about Angular material design, please read this article. You'll find out neat features that will help you ease your job.

Pin
This UX a q&a section where you can search questions and get them answered by experienced designers.
Pin
Angular Material includes professional UI components which are based on Google Material Design.
Pin
This is a wonderful source where you'll find out more about what it takes to work with AngularJS Material.
Pin
Fuse is an exceptional AngularJS material design template which includes neat functionalities.
Pin
Follow this link and find out all there is to know about codes, prototypes,  and design.
Pin
 This is an excellent Angular package which will definitely come in handy to any designer or developer. Follow the link and see what it has to offer.
Pin
Here you have an outstanding material dashboard with an amazing design and neat features. Follow this link and discover it's full features.
Pin
Metrika is an amazing material design dashboard which was specially created for AngularJS. It has a fully responsive equipped design which will perfectly fit any screen size.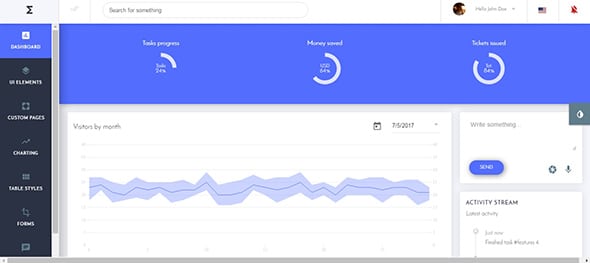 Pin
Administri is a lovely dashboard design which was built for AngularJs. It includes neat features and a 100% responsive design.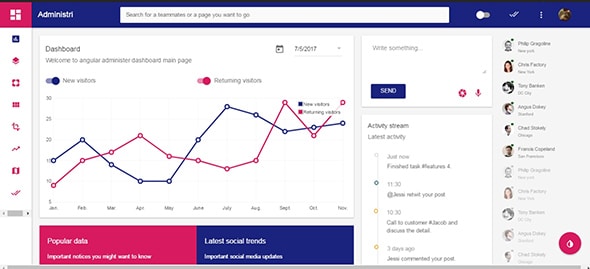 Pin
Here is another beautiful dashboard which was created using both Bootstrap and AngularJs. This template can also be used as a fully functional landing page.
Pin
This is a wonderful admin dashboard design which includes the following features: magic AngularJS, AngularUI, Bootstrap 3, and more.
Pin
Angular is a great web app template design which includes neat features. Take a look, download, customize and use it in your projects.
Pin
SlideShare is an excellent AngularJs material design tool which can be used to build stunning custom components. This is possible with AngularJs framework which will significantly ease your job.
Pin
Which one of these AngularJS material design tools are you currently using? Which tools which you like to add to the list?