Home » Articles »
Line25 is reader supported. At no cost to you a commission from sponsors may be earned when a purchase is made via links on the site. Learn more
Let's start from the perspective of what information and functionalities a small business website needs to feature. Different business types naturally require different marketing strategies. For any given type, it's possible to find the right solution, but you still need the right tools to put that solution into practice.
There are three main things you want to focus on to get started on building any business website; and work in the business-specific details as you go along.
Content – Content should always be clear, and it should always be crisp and to the point.
Images – What is true for content is double true for images. They need to be crisp and clear, and they should be a business's own images.
Responsive – Maybe your business can succeed if you ignore online shoppers, but don't count on it. Make certain your website is responsive.
Illustrating how Pre-built Websites Can Make Good Things Happen
Image source: Be Theme Digital Pre-Built Website
There are many things a small-business website must have in terms of features and functionality if it is to attract and hold customers. Let's start from the beginning.
There is no better way to attract a customer than to make a great first impression. As you will see from the following examples, great first impressions are not all that difficult to create, especially when you have a little help.
Virtually each one in this huge selection of pre-built websites was designed to make a great impression. The examples shown here, take things a step further. They encourage the visitor to stick around to see what a website has to offer. A first impression can even include a call to action.
As is the case with other small business types, a good first impression is important for digital and web design agencies; in many cases, critically so:
If you think a burger delivery restaurant would have little use for a great first impression, think again.
This is an excellent example of how an image can attract a visitor, tempt the visitor to look for more information, and create a call for action – if you happen to like tasty food.
Another point is this. A well designed first impression leaves plenty of room to highlight a business's unique value proposition, whether it is a brand, a logo, or a tasty hamburger.
With respect to images:
We live in a visually oriented
It can be difficult to attract visitors using descriptive text; this is not the case when using great images.
Images are at the heart of modern marketing techniques.
The best images are the business's own – but make sure they are of high quality.
This pre-build website would make an excellent home page when modified to fit a client's specific brand. It attracts viewers, and also instills a sense of trust.
A great first impression and a call to action – all in one. You're invited to visit the club, enjoy the atmosphere, and if it is a private club, join it.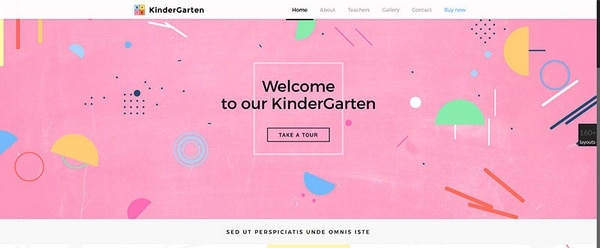 The call to action here is an offer to take a tour, which you would naturally want to do before deciding where to send a little one to get him or her off to a good academic start and have fun too, as this pre-designed website suggests.
First impressions can be interesting, exciting, or in these two cases, intense:
These examples are tailor-made for businesses catering to sporting and adventure-loving enthusiasts.
If your client offers a wide range of products or services, keeping a web page free of clutter could be a problem. That need not be the case.
Businesses of this type often provide a complex range of services, plus they rely heavily on imagery. This pre-designed website offers a wealth if useful information, yet the design is clean, sharp, and uncluttered.
Why Designers Love Pre-Built Websites
If you like what you've seen here, you'll love what you see as you look through the Be Theme library of more than 170 of these pre-designed websites. You'll be looking at 170+ great first impressions for one thing, and you'll begin to understand why so many website designers and their clients have elected to take the approach Be Theme offers.
These pre-built websites are customizable. You can make a few small changes, or you can change things completely; but since most every small-business type is represented, you can always find a design that will get your project off to a quick start.
There is of course more to Be Theme that its popular pre-built websites; much more in fact. This WordPress theme features one of the finest editors and page builders you will find anywhere in Muffin Builder 3. If you are a fan of Visual Composer, another popular page builder, you can use it as well – or you can use both.
There are a host of other design aids as well, and if you prefer to start a website design from scratch, simply choose a grid, a header style, and a layout style, and start building. Be Theme will make your business website-building experiences fun and rewarding.