Home » WordPress Themes »
Line25 is reader supported. At no cost to you a commission from sponsors may be earned when a purchase is made via links on the site. Learn more
Today we want to prove that not only premium WordPress themes are able to create striking and professional websites! There are a lot of awesome options out there for free responsive WordPress templates that offer endless customization options and a clean, modern look that are equal to some of the best premium themes – all at zero cost.
We put up a list with 25 of our favorite free responsive WordPress themes that are both beautiful and fully functional, so you can bring your ideas and projects to life.
Shapely is a very powerful free WordPress Theme that can be used in various ways. This is one of the most advanced WordPress themes available for free and it comes with lots of features and customizing options. Shapely also comes with various homepage widgets that can be used to add portfolio, testimonials, parallax sections, your product or service information, call for actions and so much more. With this theme, you can add most free and premium WordPress plugins such as WooCommerce, Jetpack, Gravity Forms, Yoast SEO, Google Analytics, Contact Form 7 and more! Shapely is fully responsive and it looks perfect on all screen sizes and devices.
Tyche is one of the best free eCommerce themes powered by WordPress and WooCommerce. We strongly recommend using this theme if you're planning to create a stunning website that also includes an online shop for your business. This theme is very easy to use and customize and it comes with tons of features. Best part? It's completely free!
MedZone is a super flexible and versatile WordPress theme that is free and works great for all types of medical practices including dentists, doctors, surgeons, hospitals, clinics, and more. MedZone lets you enhance your website and add several helpful elements to it such as appointment forms, info about the opening hours, team member listings, and more. Of course, you can also create other types of content and websites with this theme!
Newspaper X is a simple WordPress theme suitable for any sort of magazine or newspaper such as fashion, technology, food, lifestyle, new, cars, gaming and many more. Newspaper-X is completely free to use for personal and commercial projects. This theme has a very nice and modern design with various features and endless customizing options. It's a perfect choice for anyone that's looking for a content-oriented WordPress theme that also works great with photographs and other types of content.
Blaskan is a very simple WordPress free theme with an extremely modern and minimalist design that works great for various purposes such as personal blogs, creative agencies, magazines, and lots of other options that require written posts. It's a versatile theme which makes it perfect for your personal and commercial projects.
Activello is a clean and free minimal WordPress blog theme that can be used in various ways to achieve stunning results. Activello uses the Bootstrap front-end framework which makes it fully responsive and mobile friendly. This theme has pixel-perfect graphics and an innovative design that will work great with all your projects, personal or commercial. Activello comes with several custom widgets and a fullscreen slider that helps you showcase your content in the best way possible.
Breviter is an elegant free WordPress theme that was developed with creative bloggers and professionals in mind. This is the perfect theme if you're planning to express your ideas and content with the world. It lets you choose between various styles for every kind of post you may have in mind so you can easily communicate with your audience or clients. Breviter's elements are fully responsive, with a lightweight feel and design created for your every need.
Newsmag is an elegant free WordPress theme that's packed in a modern design created especially for magazine, news or any kinds of blogs. NewsMag comes with 4 different blog page styles that you can choose from and it will work great on every browser, device or screen size. This theme includes Twitter Bootstrap 3, Microformats and Font Awesome icons. You can also add Contact Forms and Google Maps to contact page and everything is so easy to use that you don't need any coding knowledge.
Sentio theme is a great option if you want to focus on publishing excellent content with cool design. This theme has a clean, sharp and modern design that's based on awesome typography choices, nice interactions and a fully responsive layout for all screen sizes and devices. You can use Sentio to emphasize different types of content (standard posts, videos, images, quotes, links, etc.) and it gives you the option to create a stunning website without any coding knowledge.
Allegiant is a multipurpose WordPress theme that can be used for free for any type of website or project. We strongly recommend it for agencies and professionals. This awesome theme comes with a full homepage slider, feature blocks, portfolios, services, team members, and even testimonials that you can easily implement and customize because of the CPO Content Types plug-in. Allegiant is one of the best business WordPress themes because it's so modern and flexible.
Dazzling is a clean WordPress theme with a flat design and a fully responsive layout. This theme comes with outstanding functionality that can compete with premium themes. It can be easily customized by choosing from a wide range of color variations, several widget areas, flexible featured slider and many more. Dazzling was developed using Bootstrap 3.
Unite is a very clean WordPress theme that comes with a modern, flat design developed using Bootstrap 3. This theme was created with simplicity and effectiveness in mind. Unite is fully customizable and it lets you choose from unlimited colors, footers, navigation menus, fonts and more. We recommend it for wedding websites or blogs but it's so versatile that the possibilities are endless. Unite is a great option with no costs that will make your website stand out from the crowd.
Transcend is a business WordPress theme that's perfect for agencies or online companies that want to share their story and work with the world. You can use this free theme to grow your presence online in a professional way. Transcend has a clean, modern look and it comes with support for both portfolios and services. Keeping your website organized is easy because of Transcend's AJAX technology, which gives you the capability to categorize and tag your content dynamically.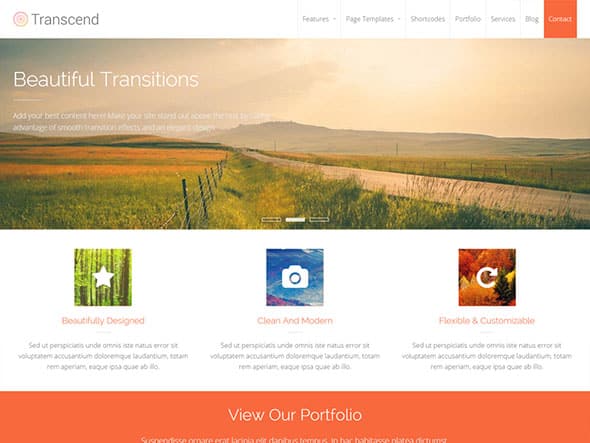 Brilliance is a highly intuitive, mobile-friendly free WordPress theme that will help you create engaging and effective websites with no costs. This theme was created for professional and business applications and it gives the users lots of capabilities for commercial and professional success. You can use this website for creating a stunning eCommerce website or a digital or affiliate marketing place. Brilliance is a fast-loading theme with extensive SEO improvements, perfect for businesses of all kinds. It comes with integrated WooCommerce and eCommerce plugins that are perfect for online shops.
Zerif Lite is a modern one-page WordPress theme perfectly fit for web agencies, digital studios, corporate, product showcase, personal and business portfolios. Zerif Lite is fully responsive and optimized for lots of popular WordPress plug-ins such as WooCommerce for eCommerce and online shops and the WPML plugin that lets you create a multilingual website. This theme has lots of SEO improvements and it looks great on all screen sizes – all without any cost.
FlatOn is a very modern free WordPress theme inspired by flat design. It has a very clean and fully responsive design and it gives you the option to choose from 2 different color schemes, which brings variation to your design. This theme uses the skeleton framework for grids which means the CSS is kept to a minimum. FlatOn also has 4 footer widget areas and it allows custom CSS. This is a very flexible option which will work great for most of your personal or commercial projects and ideas.
Onetone is a one-page theme built on the Bootstrap framework and coded with HTML5/CSS3. This is a very modern WordPress theme that displays all your information and content on a single page with a very organized look. The basic sections are designed for especially for business purposes and they give you the option to insert lots of info such as services, about, gallery, clients, etc. onetone comes with an extensive admin panel that's very easy to use. This theme lets you make various adjustments, such as changing background, parallax scrolling background, video background, Font Awesome Icons, uploading logo and favicon, adding custom CSS and many more!
Awaken is a cool WordPress theme with an elegant design that's perfect for any magazine or news-related website. Because it has two main widget areas, this theme is perfect for magazines that want to grow their presence online in a very professional way. Awaken also has three post widgets that let you display posts in any style you may want to. This theme has a fully responsive layout that was created using the Twitter Bootstrap system. One of its best features is that you can insert special Youtube video and social media icons.
Business Point is a very impressive free WordPress theme created for all kind of businesses. It's fully responsive and it has a clean, easy to understand design that includes some powerful tools for presenting your content in a beautiful way. You can easily add lots of Google fonts, custom colors and slider support. This theme is perfect for product reviews and even blogs. The possibilities are endless!
Ample is a free WordPress theme that gives you the possibility to create a stunning website in no time! This theme can be used for various purposes because it's so versatile and easy to customize. Ample can be used to create beautiful and professional looking websites for personal or commercial projects with no costs. It's feature-rich and it lets you customize almost everything. You can even add a logo or special header to your website and homepage. This theme lets you use a primary color option and change the color scheme of your website in order to keep a clean look.
Accelerate is a super flexible WordPress theme that you can use free of charge for any purposes you may need. This theme has a premium look and is content-oriented so it will make your images and texts stand out from the crowd. We recommend it for portfolios, business websites, blogs, personal, travel, corporate, various services or any other kind of website you may think of. This theme flexible layout that's easy to customize. Its design is a perfect match for any kind of content you may want to insert. Accelerate is fully responsive and runs fast on all kinds of browsers, mobile devices or screen sizes. It is even Retina ready!
Stanley is one of best free WordPress themes out there and it was created by the awesome guys from BlackTie. This theme was created using the best Twitter Bootstrap technology with minimal colors that give the website a modern and clean look. StanleyWP is a very good option that we strongly recommend because it offers premium quality completely free of charge. This theme is user-friendly and it uses the Drag & Drop page builder, three-page templates, portfolio post types and more!
Ward is a fully responsive HTML5 theme based on the Gridiculous boilerplate that has a unique and modern design. This theme lets you add your own background, page layout, site width and more! Ward comes with eight supported post formats, such as: Video, Image, Aside, Status, Audio, Quote, Link and Gallery.
Illdy is a very flexible and modern-looking WordPress theme that can be used for endless purposes and ideas. It comes with the powerful WordPress Live Customizer and lots of awesome widgets! Illdy was built using the powerful and innovative Bootstrap coding so it looks perfect on all devices and browsers. All you have to do is customize it, add your content and you're ready to share it with the world!