Home » WordPress Themes »
Line25 is reader supported. At no cost to you a commission from sponsors may be earned when a purchase is made via links on the site. Learn more
Website themes with feminine design are an extremely stylish solution for personalizing websites concerning products or services for women. Thus, many people who need a website are addressing women's themes. But what does the feminine design mean? Well, these themes usually have a design which includes many colors, multiple organic fonts, many elements and playful shapes, and animations with flexible elements with the purpose of showing that the products or works displayed on the site are related to something feminine or created by a woman.
Whether it's a site dedicated to new moms or a blog addressing teenager girl problems, a feminine design can focus on the message you want to share. A theme with a feminine design can be even more highlighted than others and can attract visitors much better.
This article aims to briefly present the most exciting and stylish 25 WordPress themes with a feminine design.
Feminine design themes have been created to bring an elegant touch to websites and almost all are intuitive and customizable, easy to install and use, and provide many tools and benefits that will help you create a complete and vibrant website.
So, whether you are looking for a more minimalist look or you need a website with many decorative and dynamic elements or just want a simple design for your blog, these themes come to your aid and offer a wide range of customization options, templates, simple to use builders and a lot of other helpful tools that will make your website look stunning.
Hoping that we awakened your interest, we invite you to follow the next list of 25 of the most interesting and vibrant feminine WordPress themes and maybe you can find one for yourself.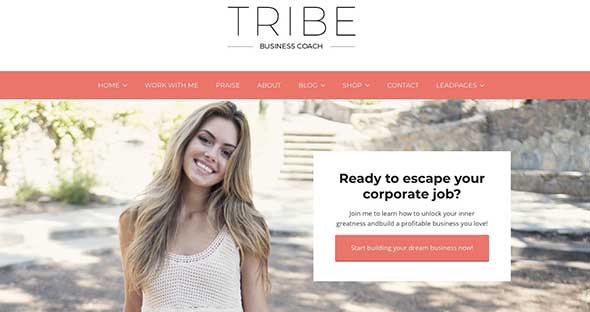 The Tribe theme was designed to look great on any mobile device and offers tools which you can use to easily build your website. You don't require any coding or previous experience to install and customize this theme. The Tribe was made especially for the female public and has essential features that will make your website look elegant and professional. Some features include a fully responsive design, elegant customizable layouts, certain blocks like the testimonial and "as featured", 7-page templates and a lot of easily customizable design elements. All you have to do is upload a background picture, the content and that's it, you will have a minimalist, elegant and feminine website.
Aster is a more dynamic WordPress theme with a central logo and menu on top that offers an elegant and simple layout for your content. It will take just a minute to setup and you can display your portfolio works instantly. This theme was designed to be as simple as possible for certain creative specialists and has an animated portfolio layout that can display your works once the visitor has landed on your website. It's easy to use, simple to customize, has a fully responsive design and only elegant and minimalist elements.
Marigold offers a more black and white look and was created especially for mobile devices and then optimized for bigger screens. That means a fully responsive design with an elegant and carefully crafted look. Marigold WordPress theme offers a delightful experience for users, it's easy to install and customize, it's compatible with many plugins and some features include a one-click demo import, 4 different featured posts sliders, several highly customizable post layouts, sidebar options, a simple to use builder and many other exciting tools that will help you create an outstanding feminine website.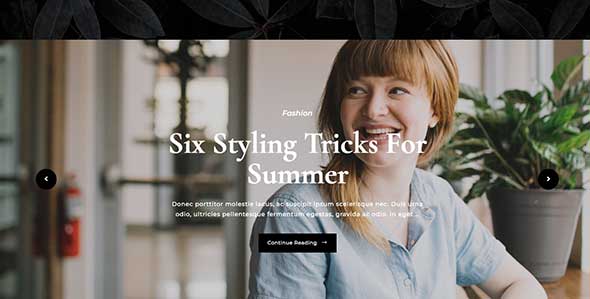 Charlotte is a creative WordPress blog theme based on a dynamic background with photos and videos. It offers an elegant and simple design and was created at first for mobile devices only and afterward optimized for bigger screens. The design aims to catch the attention of the visitors by placing a powerful message in the center of the page and also offering the click to next layout. Among other features of Charlotte, you can find a simple page builder, a highly customizable layout, featured posts sliders, 5 custom widgets and many other interesting tools.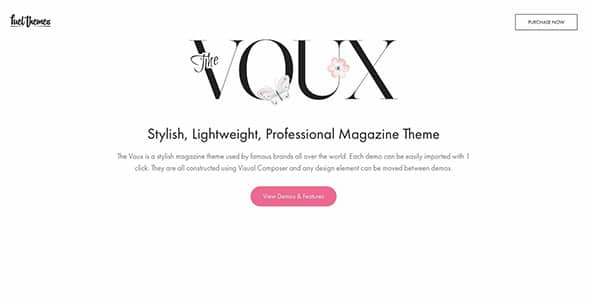 Whether you're are a professional working in fashion or design, the Voux theme answers all your needs. This theme was designed with total attention to detail and offers a simple, minimalist and feminine look. It's simple to use and customize, you can drag and drop content in a very intuitive familiar way, has a standard page builder, is fully responsive to any mobile device and, as you can see, displays a stylish and lightweight look. Perfect for any fashion magazine website or a feminine portfolio.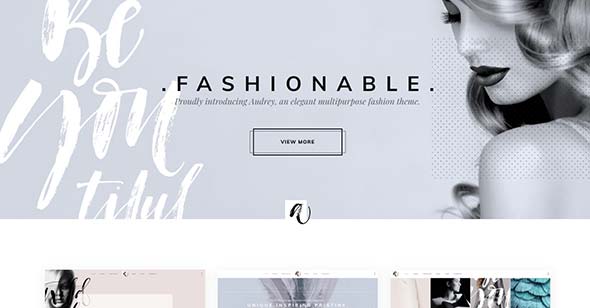 With Audrey, you get a more artistic touch. It has elegant and artistic elements, a sophisticated background picture and an engaging post layout. Audrey is simple to install and customize, easy to use so you will not need to know coding, has a large collection of pages and is fully responsive. You can feel the minimalistic and artistic touch on any page as you build your site and simple tools help you all the way. Other features include extensive typography options, a visual composer, various portfolio layouts, images and videos for background, multiple logo versions and many other helpful options. Audrey is perfect for any fashion related websites or clothing online shops.
Tendril offers an artistic, creative, clean and playful design emphasizing some watercolor artworks. It comes with 6 header options featuring different dynamic and feminine elements, such as plants, leaves, green and blue graphics and curly ferns. Tendril is best suited for outdoor business websites, garden-related blogs or any kid-related website. The usability of this theme is very high and you can build your website very quickly as it has a lot of easy to customize elements and a clean and simple back-end code structure. Some features include the elementor visual page builder, compatibility with e-Commerce system, layout pages, and many other options.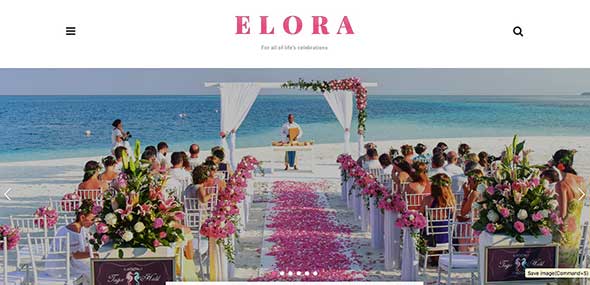 Elora is another WordPress theme and it was inspired by the latest trends in feminine design. It has a minimalist and simple design and offers an elegant look. It can be used for fashion related websites and blogs and it's very easy to customize. It has a fully responsive design, supports formats such as image, video, and audio, has flexible featured post sliders, many customization options, and a lot of other easy to use tools that will help users create an elegant and vibrant website.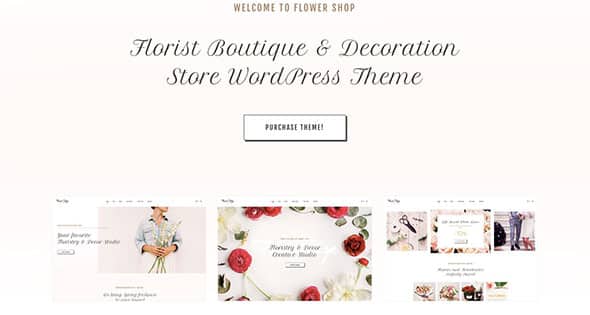 Flower Shop theme design offers a sublime feminine design with many floral elements, beautiful colors, and elegant layouts, all displayed over a neat and colored background. If you're searching for an online store theme, then this joyful theme is the perfect one. Whether you have a flower business or create decorations for weddings, Flower Shop theme will help you rapidly build your site. Easy to use, clean, elegant and feminine, fully responsive and with a lot of customizable elements, this theme will make your life easier.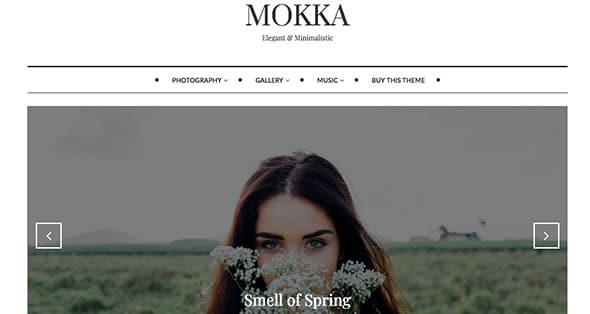 Mokka is a fully responsive, clean, minimalist and modern WordPress theme with a high demand. It has a white background on which the menu and layout elements are displayed, creating an elegant and minimalist black and white contrast. Mokka is very easy to install and customize, has a drag and drop builder, is compatible with many plugins and has many other tools that come to your aid.
If you're searching for an elegant look on which to display your works, then Mokka is a perfect choice.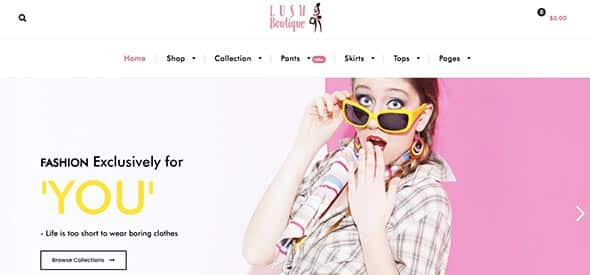 Lush Boutique is a more playful theme, displaying many colored elements, images for backgrounds, and a stylish menu with a centered logo. This theme is very easy to install, has a highly customizable content, dynamic elements with animations and offers the possibility to quickly update and build your content. It addresses professionals and businesses with online stores and offers many customizable layouts, WooCommerce plugins, an easy to use page builder and much more.
Chic is a highly appreciated WordPress blogging and WooCommerce shop theme which offers a clean, organized, modern and minimalist design, with dynamic elements and a simple menu. It comes with a featured posts homepage slider, many custom page templates, an alternative category style homepage, easy to use page builder and much and more. Fully responsive and highly customizable, Chic represents a great option for many creative professionals such as photographers, designers, freelancers, and architects.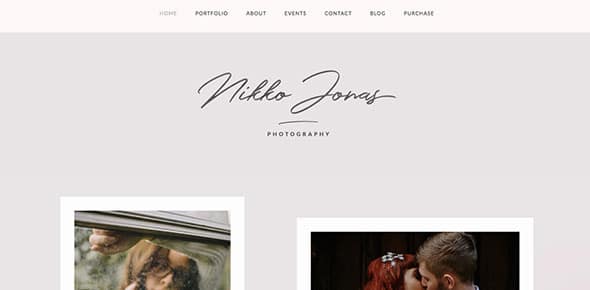 If you would like to use an artistic, minimalist and feminine theme, then Nikko is the answer. It offers a sensual and elegant look and has a modern design that makes any website using it very easy to navigate through. It was designed for creative professionals such as artists, photographers and designers and its content is highly customizable.
It offers a neat and elegant portfolio layout, with many customizable options, an easy to use page builder, simple setup process, a 1 click demo import and many other options created especially for those without any coding experience. This theme is also fully responsive and impresses by small design accents and elements that make it a perfect choice for artists.
November is a very neat and organized WordPress blog theme with simple modern elements that make it a perfect choice for any portfolio website. You can use it for fashion, travel blogs, food or lifestyle websites as it was designed to cover many creative demands. It offers more than 120 styling options, customizable content (colors, fonts, layouts) and a drag and drop page builder. It has a white background to better emphasize the content and better reach out to the visitors.
Mini is a more dynamic and visually centered theme designed for photographers, architects, and travelers. This WordPress theme comes with 3 refreshing variations of default blog, feminine blog, and travel blog pages and each option has its own about and contact pages, which are simple to customize. Also, this theme is fully responsive, easy to customize, has a feminine and neat design, easy to install and use, offers complex layouts for displaying your works and has a visual composer for a better control of how your website looks and much more.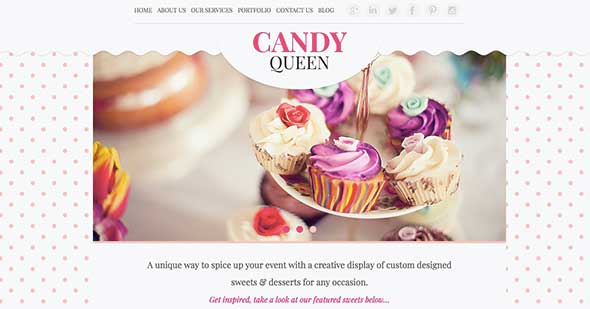 Candy Queen is a sweet modern and feminine theme, fully responsive and better suited for an online candy store. It has a nicely decorated layout, with a central position for the name and logo and a central picture for displaying any products. Candy comes with different options for color schemes which are easily customizable and includes tools such as an easy page builder, different layout pages and much more.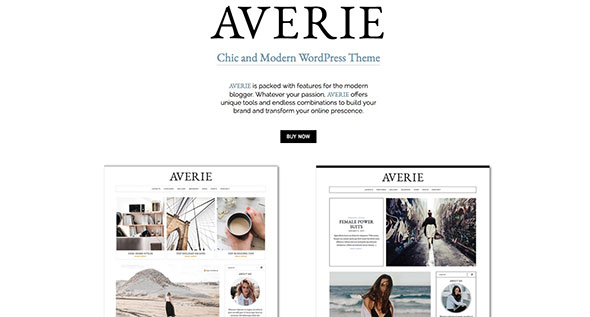 Averie is another WordPress theme with a feminine and modern design. It offers a neat and clean one-page design, with modern elements arranged on a white background. This theme is suitable for any professional creative for showcasing their portfolio in a unique, feminine and classy way. It has a fully responsive design, modern touch, many helpful optimization tools, 3 color schemes which are easily customizable, and much more.
Deep Soul impresses with its simple, feminine, classy and modern design made especially for creative professionals. Whether you need a blog or you have a business like an online store, this theme is a perfect choice. The feminine touch is achieved also by using some organic fonts and shapes and a background image with floral accents. This theme comes with 6 styles for the interface, an easy to use customizer, a drag and drop page builder, many options for page layouts and product showcase, and much more.
Juliet is a WordPress theme with a simple, clean and feminine design that offers many customizable options, a fully responsive design, 3 layouts for showcase affiliate links, custom widgets and many other helpful tools. If you're searching for a simple and modern look for your website then Juliet will definitely help you.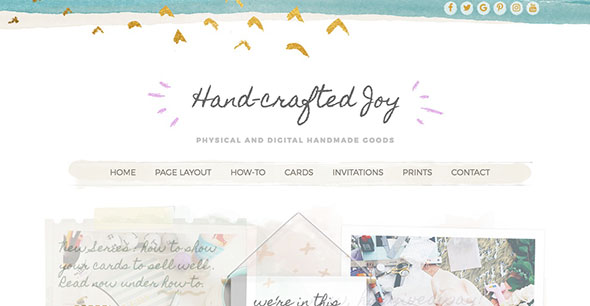 Hand-crafted Joy is an easy to customize theme which offers a playful and feminine design. It has some artistic handcrafted elements that complete the layout and fonts and icons that fit the design and make the entire theme look attractive and playful. Some other features include an easy to use page builder, layout options, easy to import predefined content, and many other tools that will help creative professionals to build the perfect website.
If you're seeking a colorful and feminine WordPress theme, then Aquarella is a perfect choice. It was created to engage the visitors with a clean, feminine and elegant layout.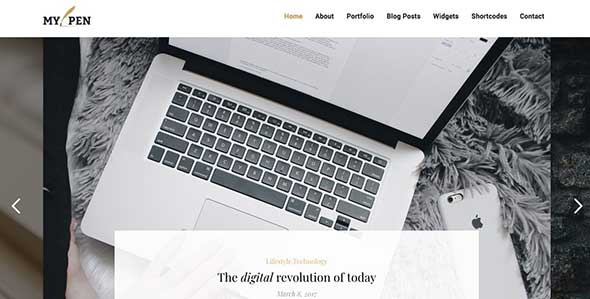 My Pen theme offers a more professional look by its modern, stylish, organized and minimalist design.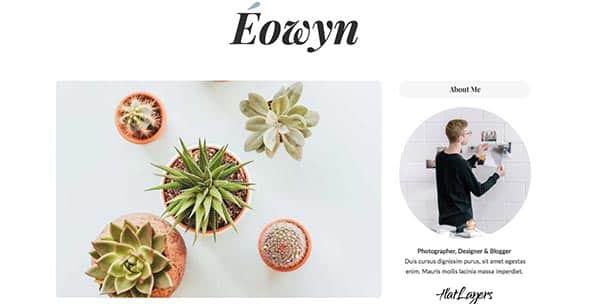 Eowyn is another minimal, classy and modern theme, fully responsive and highly customizable.
Kidzoo is a fully responsive WordPress theme aiming to respond to all of those in need of a theme suited for children products online stores. Easy to setup and with a lot of dynamic elements, Kidzoo is a perfect choice for businesses and also for a mother's blog.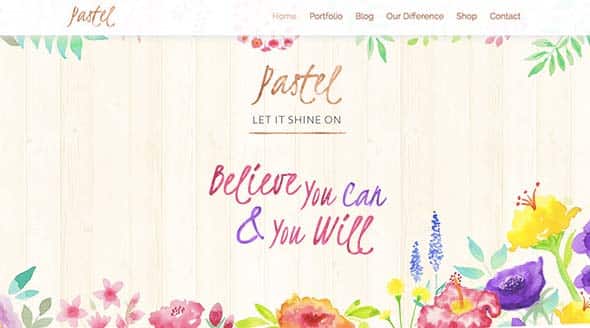 Pastel Floral is another creative and playful WordPress Theme with a feminine and joyful design. The logo and name are centered and surrounded by floral elements, all over a wooden background that completes the look. This theme offers the possibility to be displayed either as a single page or on multiple pages. Other interesting tools are the Elementor visual page builder and the WooCommerce e-commerce plugins.