Best WordPress Image Compression Plugins of 2019
Home » WordPress Plug-ins »
Line25 is reader supported. At no cost to you a commission from sponsors may be earned when a purchase is made via links on the site. Learn more
An image has the ability to convey a story of a thousand words. The statement says everything about the importance of using an image. WordPress developers have understood the fact that including images in the website content such as blogs and advertisements helps to gain more traffic and conversion. But there are demerits along with merits of using too many images on a website, calling for the use of an image compression plugin.
You should be alert about the fact that using too many images reduces the space on the server. You should store the images on the website's server to save or delete them easily. Besides, storing images on the server allows you to enhance loading speed rather than using a third-party image gallery website.
Due to the burden of too many images on the server, it will automatically decrease the loading speed of the webpage. All of the above troubles on the website will result in a high bounce rate of the visitors. Apparently, you'll lose your clients and you don't want that.
Thus, here are the 5 best WordPress Image Compression Plugins of 2019 that helps you to use as many images you want without reducing the loading speed of the webpage.
Pin
Smush is one of the most used premium plugins created for the optimization and compression of images. An award-winning plugin, it has a great ability to optimize and compress images without degrading the visual quality. It automatically works itself and doesn't optimize the images on your website server to reduce the load.
The Smush plugin scan every image on the website and tracks the future image uploads. It also rips off the unnecessary data from the images and compresses them along with resizing if needed. Smush has the quality of compressing the images of a specified folder. In addition, it also supports premium image plugins like NextGen Gallery, WPML, WP Retina 2x NextGen Gallery, WPML, and WP Retina 2x.
Key Features:
Lossless compression of images without slowing down the server
Supports GIF, JPEG and PNG image files
Automatic rescaling of images
Automatic optimization of images
Image optimization on the whole network
Compress images on multiple websites with international and individual settings
Pin
ShortPixel is one of the top range image compression plugins that justifies the use of automation in the perfect sense. You just have to install it once and the plugin will automatically resize and compress the images. The plugin opts for a minimalistic approach by optimum utilization of resources to lower down the load on the server. Additionally, it is perfectly compatible with shared cloud network, VPS or dedicated web hosting.
It allows you to optimize images sent through FTP and images in the media library.  ShortPixel has the ability to use both lossless and lossy image compression as well as glossy JPG image compression for pro photographers. It has the feature of free optimization of bulk images.  The plugin also provides image optimization report of 40 days and test the optimization parameters with a single click.
Key Features:
High-quality lossy compression
Auto-conversion feature – PNG to JPG
Supports Webps, WP Retina 2x, various image galleries, WooCommerce, and WooCommerce plugins
Single API key with the feature of multiple site integration
Supports Watermark and Watermark plugin
Pin
EWWW image optimizer enables you to improve your website experience by compressing images. It is a lossless image optimizer plugin which allows you to compress images as per the compression ratio for JPG, PNG, GIF, and PDF files. The plugin automatically compresses the images according to the format of the image file. It is free and optional paid version of the plugin is also available.
The plugin has the SSL protection for the security of your files. It gives an option to optimize image on your server or any other specific server. You can also optimize bulk images from an entire folder and skips the images that are already optimized. This plugin supports WP Image editor, WEBP images, WP-CLI, and NextGenGallery.
Key Features:
Background optimization of images
Free backup of images till 30 days
Automatic resizing
Automatic lossless compression and retina support
CDN support for cloud server uploads
Compatible with Buddy and images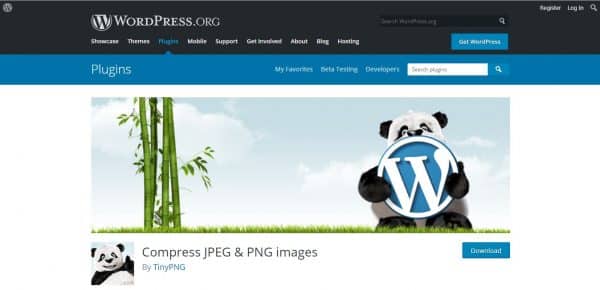 Pin
This plugin works with online tools available for the compression of images. It allows you to optimize images with the external tools without hampering your website speed. The plugin enables you to optimization for compression of bulk images. Additionally, it has a feature of automatic image optimization for newly uploaded images.
The main advantage of this plugin is that it allows you to store the metadata, creation dates, copyright information and GPS location for enjoying full credit of your website images. This plugin has a dashboard widget to monitor the data and statistics of image compression. It can also optimize color profiles and save space with the conversion of images to RGB color profiles.
Key Features:
No size limitations for optimizing images
Compatible with PNG and GIF
After conversion of images, it preserves Copyright metadata, creation date, and GPS location
Multiple site optimization with a single API key
Dashboard widget to monitor data and statistics of compression
Pin
Optimole is a savior of your budget. It is a free image compression plugin that enhances your website experience by reducing the size of images. Another important advantage of using Optimole for image compression is that it compresses the images without any visual alterations. In nutshell, Optimole serves the images at any location via CDN after resizing and compressing them.
Additionally, Optimole has a great autopilot feature that saves your time and completes the job itself after getting installed once. It has a user-friendly modern interface to track the activities. Otimole also has three premium plans consisting more viewer bandwidth, disk space, CDN locations, priority support, and custom CNAME.
Key Features:
Covers 110 server locations that serve images via CDN
15 GB of images allowed with the paid version (Free Version – 1GB)
100 GB viewing Bandwidth with the paid version (Free Version – 10GB)
Auto Optimization
DPR detection along with Retina and HiDPI support
Lossless and Lossy optimization techniques
Modern Dashboard for easy tracking
With so many good options available for optimizing images, do not forget to squeeze the images of your website to ensure the best results on the website.