Home » Web Development »
Line25 is reader supported. At no cost to you a commission from sponsors may be earned when a purchase is made via links on the site. Learn more
A website is frequently referred to as a 'shop window' and that really is the perfect analogy. Think of the high street and a row of retail outlets, many of whom may be in the same sector and competing for identical business and you have an ideal comparison to selling in the online world.
No shop would set up with a sparse display with no products on show nor would they clutter the window so that items blend in with each other and get lost. Special offers will doubtless be highlighted while the overall display will be clean and tight, leaving the potential customer in no doubt as to what the outlet offers.
Keep those points in mind and now ask the question, is my website due for a redesign?
Overhauls
In the digital world, one of the most competitive industries is iGaming which is an industry term used to cover all aspects of betting, whether it's sportsbook, casino, poker, bingo or lottery. New operators arrive online every month so this is one sector where it pays to keep tabs on competitors and see where a business can gain a competitive edge.
A stunning website is one key to gaining an advantage and a good example can be found at 888Poker.com where the website has been evolving over a period of time to the point where it exceeds all of the requirements needed to attract the attention of potential customers.
The first point to note is the homepage design where high definition photographs along with clear primary colours stand out. At the same time, the viewer is in no doubt as to what the company provides. Poker is the theme, both in the photos and in the graphics so there is no ambiguity – an issue that certain companies in all sectors fall foul of.
A promotional offer is listed clearly and while this is specific to poker, companies in all sectors can learn from this. All businesses list deals and offers through the year and it's important to make them stand out to everyone landing on the page.
A recent survey stated that on average, readers stayed on a web page for less than one minute and in many cases, it took around ten to twenty seconds before viewers lost interest and clicked away to look elsewhere. There is such a small window to grab customers' attention and a site has to be optimized accordingly.
To complete the process, the site is easy to navigate and all of the legal obligations are covered so licensing and terms and conditions are clearly shown.
Gaining an Advantage
The 888Poker website is ahead of its competitors in many respects: The welcome promotion is highlighted and should catch a visitor's attention as soon as they land on the home page. In contrast, other poker sites have a promotions tab which needs to be clicked before details of the latest offers are revealed.
As we've seen, new viewers simply don't have the patience to persevere and find information for themselves so the appearance of offers and promos in a prominent part of the home page provides an instant competitive edge.
The overall design here is bright and attractive but it's also professional: Other poker portals contain dull themes and very basic graphics that can convey a very amateurish feel. Poker is big business with high stakes involved at times and potential customers will need to feel as if they are signing up with a professional organisation.
Wider eCommerce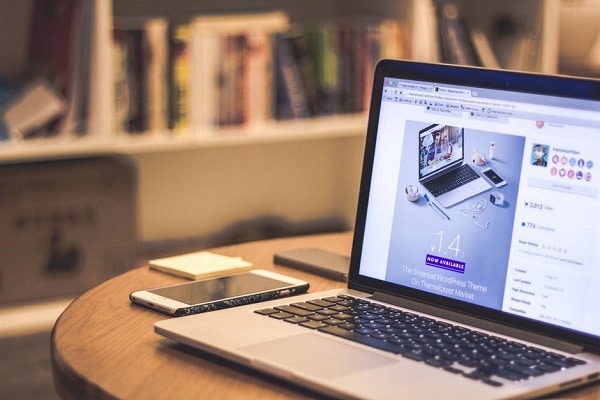 The poker site is a great example of how a site should be laid out and while it pertains to a specific industry, there are countless examples in all sectors of eCommerce. We only have to look at some of the bigger sites such as Amazon to see how they have evolved over the years since inception and the same is true for other online stores including eBay, which has developed from a tiny auction portal to become one of the biggest retailers on the web.
The biggest names on the high street have also taken up the challenge so, established retailers like IKEA, Argos and Tesco are not complacent when it comes to online trading. Their websites are optimised to stand out from the direct competition.
Next Steps
Clearly, very few website owners will be able to match the budget of Amazon, 888Poker, IKEA or eBay but there is much that can be done no matter how much finance can be diverted to the task of redesigning a digital presence.
Do it yourself websites such as WordPress and Drupal have also evolved since arriving online and there are thousands of attractive themes that can be used by customers, many of which are free of charge. More advanced themes are available at a range of prices to suit all budgets so there is the potential for a small spend and an upgrade.
The process of downloading templates and themes is a very straightforward one and only very basic technical knowledge is needed. It's very simple to get a website online but it's not quite so easy to get noticed in a competitive market and that's where budgets need to be considered.
In terms of hiring a professional web designer to help you with your targets, there are a number of ways in which you can do this. Local networking groups are useful for this and if you have the time to get involved with meet ups, it is possible to find professional designers who can give you the edge.
Alternatively, it's a case of carrying out an internet search in order to find the right person for the job. There are sites including Peopleperhour.com and upwork.com where hirers can source talent from all over the world at a range of prices. In the digital age, we can work with anyone on the planet and it may be more cost effective to outsource to another country but be sure to make the right choice.
Ask for previous examples of work and then make a judgement: Whatever budget you may have and whatever approach you take to hiring a professional designer, be sure to follow the tips and the examples laid out by experts of the industry, ensuring you can stand out from the competition.