Home » News »
Line25 is reader supported. At no cost to you a commission from sponsors may be earned when a purchase is made via links on the site. Learn more
Are you suffocating at the office day and night putting up with a cantankerous boss for a laughable salary? Don't you think that it's time to shout out loud "Stop it! I quit!"
It's your life and it's now or never. So, don't procrastinate, follow your dream. Nobody is promised they will see tomorrow. We are living right now, at this moment, and TemplateMonster is ready to help you launch your own business. The lessons will take place in the form of a Marathon. The admission is free for everybody.
It won't be an exaggeration to call this Marathon a grandiose event. TemplateMonster's team has been getting ready for it for a long time. And finally this day has come.
Attention, please!
TemplateMonster is providing a brilliant opportunity to EVERYBODY to participate in the Marathon and launch their own web design related business in 61 days. Don't know much about running a business online or web design? It's not a problem. You can still apply for registration here because all you need is a passionate desire to create and earn money. That's all you must have to start this journey.
When does the Marathon start?
The lessons will become accessible on the 26th of September 2016.
All "runners" will be given the opportunity to learn for free and launch their own web design studio in only 61 days.
Please stick to the main Marathon rule! Do all the assignments on time!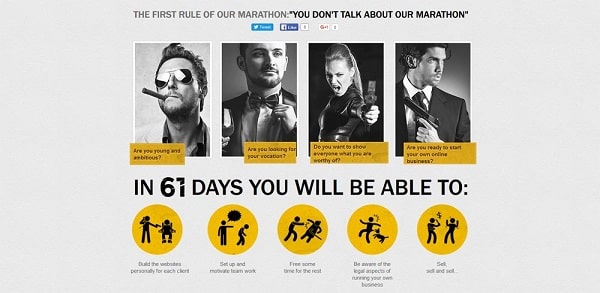 What will you learn?
Over a period of 61 days TemplateMonster will reveal all its secrets – from creating websites to selling them.
Having completed all the tasks you will become the owner of your own web design studio. You will be able to work from any place on earth and generate a stable income. TemplateMonster will teach you to plan your budget and manage it.
Failure to do one assignment and you are out of the Marathon. Sorry, "dura lex, sed lex".
Some more info about the Marathon
First of all we want you to understand that the Marathon is not just another series of training programmes. You can find hundreds of those on the Internet. Marathon is a specific step-by-step guide.

You must be sure that you have enough eagerness and aspiration to learn all the lessons on the way to setting up your own business.
Those Marathon runners who cope with all the tasks on time will get valuable prizes from TemplateMonster. We can't tell you now what the prizes will be. Only Marathon participants will be entitled to know this secret information.
Are you ready to challenge yourself and change your life in only 61 days?  Welcome to the registration page.
Follow your dream, achieve your goals and never rest on your laurels. Grow stronger!