Home » Inspiration »
Line25 is reader supported. At no cost to you a commission from sponsors may be earned when a purchase is made via links on the site. Learn more
Online shopping used to be something innovative, but nowadays it's a common part of the shopping experience. For an online store, the product pages' design is very important because this is the place where a purchase takes place. Thus, the form and the layout of an online shop product page can decide its success.
Of course, some online shops fail in having the right design and are less effective than others, but in this post we decided to focus on the positive examples, to inspire you to create better e-commerce websites with more effective and user-friendly designs.
For web design inspiration and ideas, check out these 33 excellent product pages examples for e-Commerce websites. Don't forget to tell us which one you would prefer for your or your client's online store!
Umbra is the premium PSD template created for a multi-concept e-commerce shop. Thanks to its multi-functional layout, it is suitable for any kind of e-commerce shop. This template includes all the essential pages for an e-commerce shop, such as shop, product detail, shopping cart, checkout, blog and contact.
Troubadour Goods it's a clean, classic black and white product page created for a luxury menswear company, focused on creating beautiful and reliable leather products.
This product page has a modern design and belongs to a website created for Herman Miller, a brand that manufactures and sells furniture systems and products for offices and healthcare facilities.
This interesting e-commerce page is designed for effortless web meetings, without downloading required. It combines the benefits of a landing page with those of a product page.
Organic is an advanced WordPress theme, designed and developed for all kinds of organic stores, including organic food, organic fruits etc. It has a fresh interface and it's a responsive WordPress Theme.
This product page has a really nice layout with product elements, such as color options and size, integrated.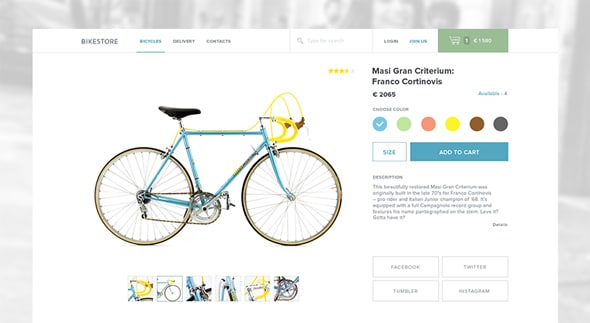 This colorful and original page belongs to the popular Nike website. It has a clean design and lots of useful customization options, such as color, size and quantity.
For this outstanding product page CSS 3D transformation was used. It also has a clean and modern layout and useful customization options.
This beautiful and simple layout can be successfully used for many e-commerce platforms. It suits perfectly any minimalist, black and white website.
This is a great product page designed for Vain Sound. This is a very user-friendly designs, with all the needed options in the right places.
Tinke
This easy to browse product page is designed for Tinke, the only tracker that measures your heart rate, respiratory rate, blood oxygen saturation and heart rate to determine your fitness and stress indices.
This sharp and stylish product page has a beautiful layout. It was designed for an online shop that sells hats.
This delectable product page was created for Mahzedahr Bakery, an online e-shop which displays exquisite sweets.
This minimal and fresh product page layout is designed for a client who specializes in eyewear.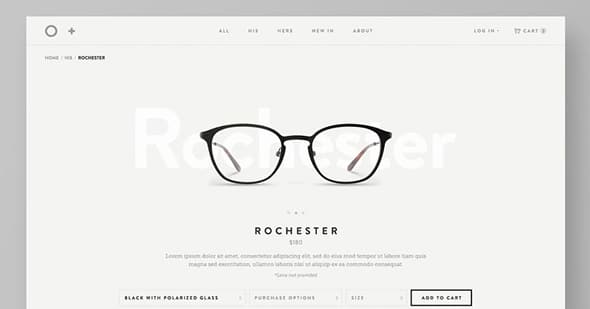 This is a Magento theme, designed especially for online stores. It comes with many interesting features that are suitable for every kind of online shop.
Mobius is a multipurpose and fully responsive WordPress Theme. It is perfect for any kind of website.
This fashionable Sit & Zen product page is designed by Giorgio Geeba Sannino and is created to display any furniture-relayed product product.
This professional and sleek WooCommerce template offers an elegant solution for those who want to sell products online.
This amazing theme has a professional mobile layout and has a great logo size header and an excellent menu.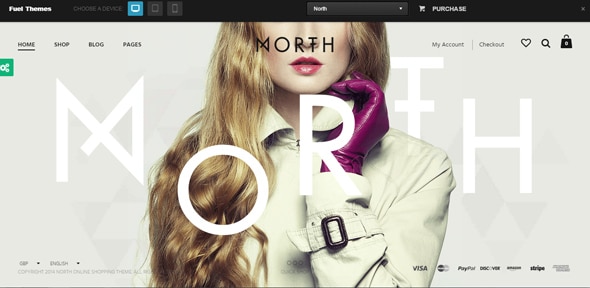 This rebranded Mercor WooCommerce theme looks modern. It includes a revolution slider, a ZOOM function, a fully supported wishlist plugin and a great product page.
This is a clean, easy to use theme with a useful interface. The design is optimized for the most popular screen resolutions.
This is a theme available in many colors and sizes and it's perfect to sell different products: e-books, music, design templates, etc.
This sophisticated and fresh theme for the V76 website takes online shopping to an amazing level. Check out its product page!
Build in Amsterdam has a polished design and can be a great example for an impeccable e-commerce theme.
This impressive e-commerce theme was created for Escada. It is stunning and user-friendly, plus the way the product page was designed is truly unique.
This product page has a classic, white background which meets the requirements of many online stores. The Filter element has a special design we're sure you'll find interesting.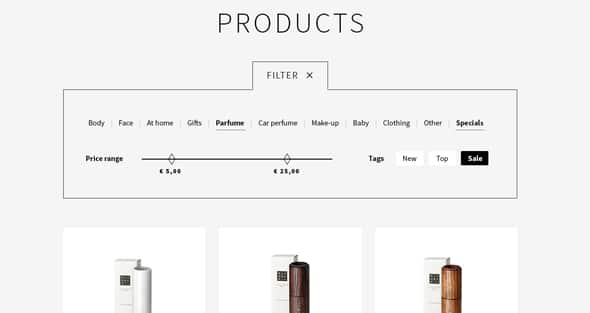 BASEL is a beautiful website template with a minimalist layout. It was created for online shop, it's AJAX responsive and it comes with WooCommerce plugin included.
The design of Harry's website is uncluttered and fresh. It has a simple and effective layout that can display any product photography.
Suprema is the perfect theme for an online shop. It's an awesome combination of style and functionality!
Trademark, an online store, has a classy and clear theme with an easy to use menu. The products pages are also interesting.
Molly is a simple and flexible layout, ideal for a modern and clean e-commerce store. It includes a blog and other useful pages. It contains more than 10 layouts predefined and has a frontend builder integrated.
Midnight is a premium responsive Magento theme with customizable admin settings. This layout is suitable for every type of online shop.