10 Best Fonts to Make Your Business Cards Design Stand Out
Home » Fonts »
Line25 is reader supported. At no cost to you a commission from sponsors may be earned when a purchase is made via links on the site. Learn more
Business Cards are an integral part of your organization's branding. Your organization's business card acts as the first link of communication. As a result, you want to make sure that your business card stands out and creates a positive first impression.
Selection of font plays a vital role in the effectiveness of your business cards. Fonts along with design, layout and color create a great business card. It's a good branding exercise to select a font that is specific to your business card and other business stationary like letterheads, envelopes etc.
You should go for trending fonts that have the ability to connect your brand with the target audience. While getting a new font created for your organization may be expensive, it is always possible to select an already available font that stands out. Here is the list of 10 best fonts to make your business card memorable.
Pin
Myriad Pro has the ability to enhance the appearance of any business card. As the name suggests, this font is a professional font released by Adobe in 1992 and contains 40 styles and family package options. The best part about this font are the rounded tails of 'y' and 'J' that makes your business card style-perfect and creative. Unlike many other fonts, Myriad Pro is easy to read due to its clean open shapes and precise letter fit. It adds a style statement to your business cards with its extensive kerning pairs. The uppercase letters of this font make your business card look neat and clean.
Pin
Helvetica is a classic font in the designing world. It is a sans-serif typeface. There are many variants available for the Helvetica font. Letters in the font have tight spacing between letters which works well when printing longer names or designations on visiting cards. This font has the capacity to look simple and minimal without looking outdated. Over the years, Helvetica font has been used by many popular companies including Jeep, Lufthanza and Panasonic.
Pin
Based on the name of the famous wine Riesling is a retro font. This font adds a style element and elegance in the design of your business cards. It has the delicacy and exaggerated descender in the letters. Apart from that, this font has tight tracking and clean playful touch. The lines of Riesling can go from thick to thin and makes it an ideal font. You can make trendy yet formal business cards with this font.
Pin
Well-known designer Rod McDonald has created this amazing font as a tribute to John Gibson's productive life and love of typographic arts. This font belongs to sans serif font family and it is easy to read for people. Thus, it is one of the most popular choice of designers. Gibson adds that attention gaining element to the design of your business card.
Pin
The Code Pro is the new trendy font that belongs to the sans serif font family. It is has a modern look with classic touch and makes your business card look classy yet fashionable. It has large rounded block letters that provide good readability. It is one of the most legible fonts that helps you create a long-term impression with your business cards. This font contains 10 styles and family package options.
Pin
If you are looking for a simple but effective business card design then the Ciutadella font might work well for you. It has a minimal and creative look to it. While the font was originally designed by Eduardo Manso as a display typeface, it works well on print with limited length texts. Ciutadella font contains 10 styles and family package options.
Pin
Designed by Steve Jackaman and published by the Red Rooster Collection, Glasgow has a commonality with Times Roman fonts. It looks like a classic font yet gives a modern look to the designs. The exceptional bold form of this font adds a style-statement to your business card design. It has a touchy and legible writing style. It contains 10 styles and family package options.
Pin
If you have a business related to the children products then, Garden Gnome is the best choice for your business card. This font has a bouncy, fanciful and quirky style that attracts the target audience to your business cards. In case, if you are into comic writing, children's toys or story books, then your business cards will fit in perfectly and will connect well with your brand. This font can make your business card more amusing and provide good brand recall.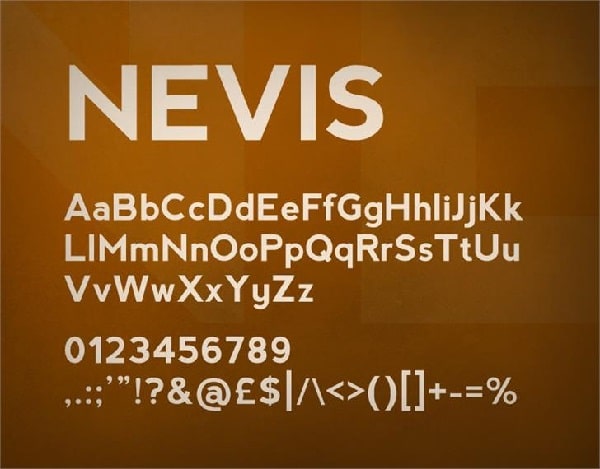 Pin
Nevis font, created in 2007, is a great option to design your business card with bold and impressive looks. You have the option to use this font in all caps for the important words in your business card to give your business card a solid look. Nevis font has stout angles and edgy typeface, which can be used to supplement the design element of your business card.
Pin
If you are confused between sans serif and serif fonts then, Jura can solve your confusion. Created in 2011 by Daniel Johnson, this font has the qualities of decency and accuracy with modern yet classic looks. It is free to use for both personal and commercial use. You can make your business card stand out with the use of this attention-grabbing font style. Jura looks different and innovative on your business cards.
There is a huge variety of fonts available for your business cards. Your choice of the right font depends on your business, your target audience and how well the font combines with the layout and design of the business card. It is essential to pick a font that is easily readable in small size. If you plan on using the same font for all your branding material then you should also consider readability and appearance of the font in larger size displays and digital displays.