Showcase of Creative Website Designs for iPad Apps
Websites for iPhone and iPad apps are always a great source for creative inspiration as the projects often allow for the designers to go to town and create a beautiful design to promote the app. This showcase rounds up 35 of the most outstanding iPad app websites. Common traits include large imagery of the iPad device, subtle textures and plenty of white space around well-presented content.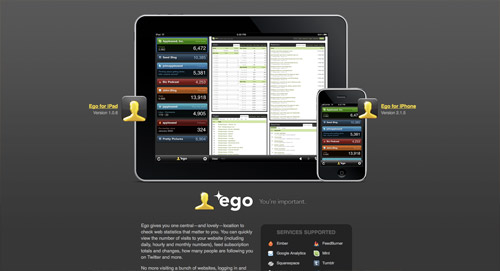 Ego is an iPad app website design which can help you check web statistics that matter to you, like the number of visits to your website.
With this app, you can invite your closest friends and family to stitch in all your beautiful memories in an online scrapbook. Check out the way the designer has constructed this app landing page!
This app has been completely rebuilt to meet all the requirements of a delightful experience and is well-presented on its website.
This app was built with the help of a lot of feedback from mobile artists and its website might be your next source of inspiration.
If you're looking for a place to eat, then this app will come in really handy. You can enjoy good food or simply have a look on this website to get inspired.
With a simple and unique design, Centralway's web site surprises through good content. The navigation on this app landing page si done vertically and information appears as you scroll down the page.
Did you know that you could easily connect to an Ipad or an Android device from your laptop? If not, you can have a look at this website to find out more.
Haze has a warm and sensitive interface for both itself and its website. This website might a great source of inspiration for your next app website design project.
If you're a traveler then this is the site for you. You'll find out that with Triplagent you can find local guides for your next vacation.
They have a simple yet creative web design and cool app. Flight Card is a very useful application that can track your flights only by number or route.
This app's website uses a horizontal band to give readers a first insight into Mosaic, an app that can help you create photo books.
Simplebotss website is entirely made of horizontal bands of content and a purple palette of colours. You can have a look and get inspired by this website's layout.
Do you like the Roambi app? If so, you should also have a look on their website and their friendly interface. There are also a bunch of great web design features you can learn from.
iFontMaker is the world's first font editor for iPad which you can use to create typography with in less than 5 minutes. Besides that, they also have a cool and friendly interface.
Flipboard's website showcases an insight of the news and articles you get by using the app. This is a very popular app so you can have plenty of things to learn from this design.
Twitterific's website might be your next project's inspiration source and you might also like to try the app and learn an easier way to tweet.
Their website's layout gets its inspiration from cooking and so does their app. You can learn to cook or simply have a look at this interesting website.
With a more dynamic interface, djay 2's website introduces a more intuitive yet powerful all-in-one DJ app.
This app's motto is  'learning is a lifestyle' and the website design illustrates just that! It has an overall stylish and friendly interface.
Their website uses horizontal bands and illustrations to make a good web design layout for their newest app.
Tis website design has a simple yet friendly interface that tells all you need to know about this comic library app.
StudioTrack is one of sonomawireworks' coolest apps. You can try it out or have a look at this website that serves as a good example for a beautiful design to promote the app.
If you're out of time, you can now design on the go with this brilliant app whose website serves as good inspiration for app promoting website.
This is an online tech community and their website might be just the source of inspiration you've been looking for.
This is a very useful app for students which promises a delightful experience. You can try it out or have a look on their website to get inspired.
This app can become your own personalized newspaper. Their website uses a black background which in some cases might look too somber, but in this one, the interface remains friendly
This is yet another cool example of promoting your app through a good web design layout. Have a look at Awaken's page or try the ultimate music alarm clock.
This website uses a single page which provides only the needed content about their app. They use a warm background and a preview of the app.
Did you know you could transform your iPad or iPhone in a remote control for your computer with this app? Their website is also a good example for promoting an app.
Their website suggests creativity such as their app will help you discover and improve it. Check out their website and find out more.
If you're looking for another dose of creativity, this app will your device into a chalkboard. Their website also uses a chalkboard texture in a creative way that best suits their app.
Taasky has a friendly interface that focuses on using a horizontal band with an illustration and good typography. If you'll continue scrolling you'll notice a sensitive minimalist design.
This is yet another good example of promoting your app through your website. This one focuses entirely on the app and the perks of using it.