Home » Articles »
Line25 is reader supported. At no cost to you a commission from sponsors may be earned when a purchase is made via links on the site. Learn more
In the world of web design and graphic design, there is a time when using all CAPS fonts in your project makes perfect sense. Today we look at the free fonts designed specifically as uppercase, or capital letters and numbers.
There is absolutely no doubt that the typography and typefaces we choose have the biggest impact on our work and it is essential that designers pay attention to the different principles of typography when creating their work.
For example, one important principle of using typefaces is that you can use a maximum of 2 fonts on a website, and they must be compatible. When you exceed 3 or 4 typefaces, you begin to draw away from the content, and the reader becomes confused and eventually leaves your site.
To make your job easier, we decided to search the web for the best free all-caps fonts you can download. That's how we came up with this collection and we hope it will inspire you!
Free ALL-CAPS Fonts for Designers
Most of these fonts are free for both personal and commercial use. Feel free to share your thoughts on them with us in the comments section below.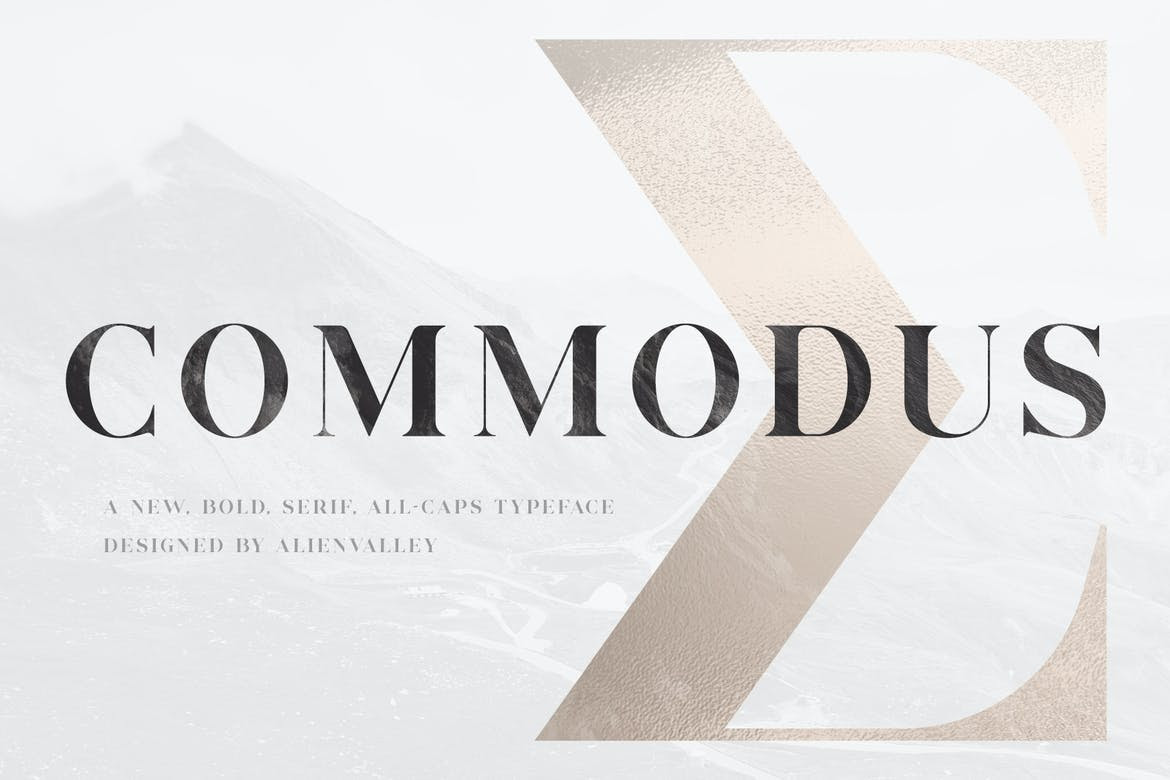 Commodus is a modern, Grecian-inspired, all-uppercase serif typeface. It features English letters A-Z in a didone style that nods to the hand-crafted look of carved marble. All numerals 0-9 sit on an old-style baseline. Commodus is most effectively used for headlines, titles, branding, logos, and anywhere.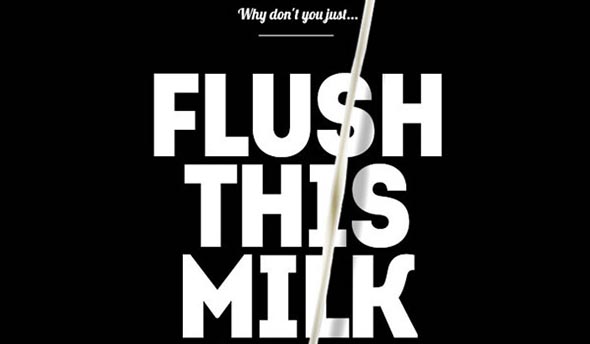 This gorgeous set consists of 50 unique font styles and weights. This is most suitable for headlines of all sizes and has the necessary adaptability to meet any type of graphic design. It is perfect for t-shirts, posters, and logos. In the original link, you can find lots of inspiring examples of how this font can be used in gorgeous graphic design.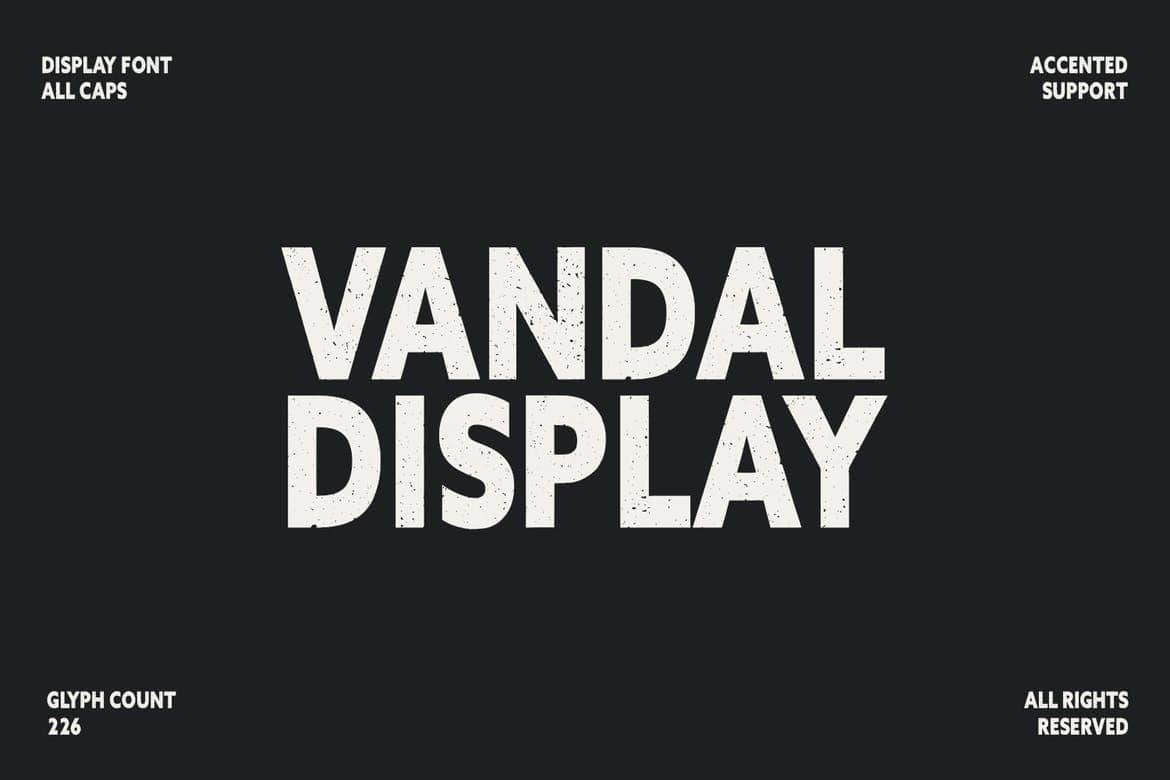 Vandal is a geometric, slightly distressed, all-uppercase sans-serif font. It features numerals, memorable characters, and multilingual accents. The Vandal font family has a bold and rough style that is ideally suited for headlines, titles, games, graphics, posters, and logos.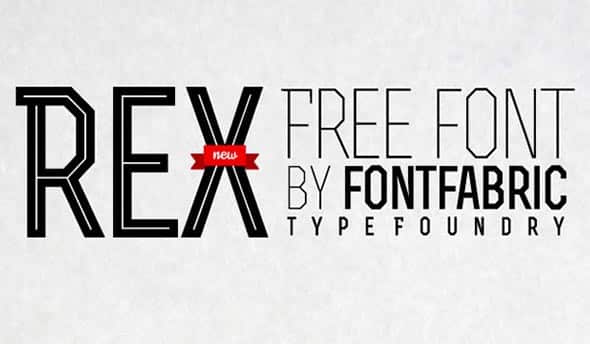 Rex is a font family that is available in three weights – light, bold and bold inline. This all-caps font is perfect for any type of graphic design and ideal for t-shirts and other items like posters, logos. This is an all-caps font, but there is a difference between both – caps & small caps. This small detail will bring a great effect to your projects.
Gatsby is a unique and clean typeface that barrows from the deco vintage style of its namesake. This all-uppercase sans-serif font features four different types (Normal, Outline, Distorted, and Retro) with an updated look and feel. It's single weight and condensed spacing make it perfect for headlines, logos, labels, and promotional products.
La Maña is a Slab Serif characterized by a large height of X and a fitting width font. It has generous finials and amazing gussets that make it ideal for large headlines and advertising.
This font was created with special care and its two weights (regular and relief), the 175 Open Type ligatures and more than a thousand pairs of tight kerning manually transform it into a great choice to have in your font library.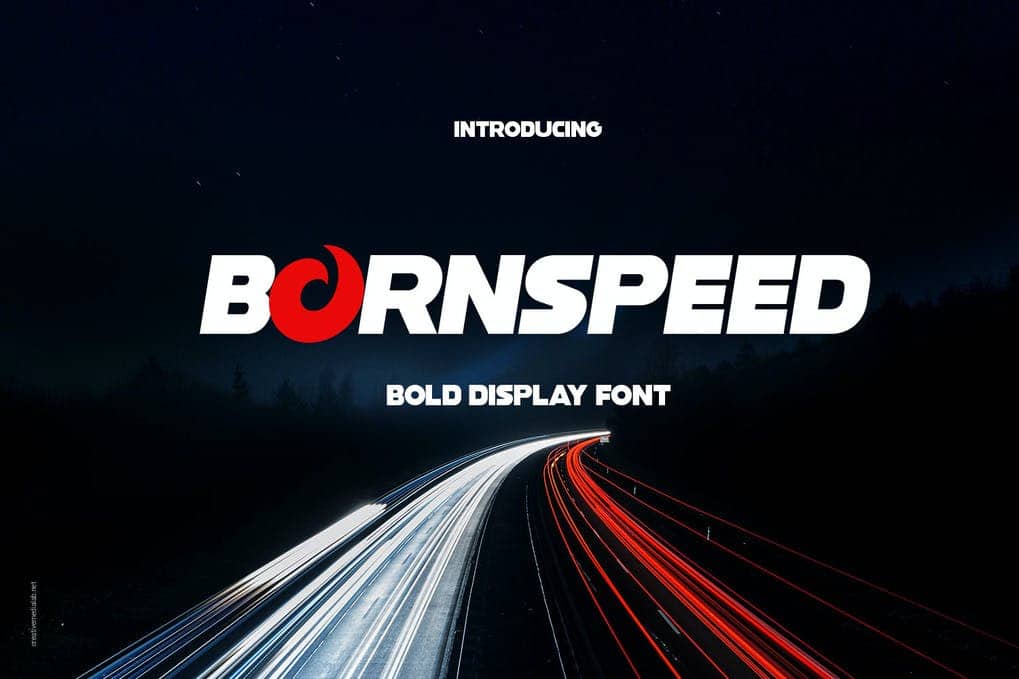 Bornspeed is a bold sans-serif display font that features all uppercase letters, numerals, memorable characters, and two alternate 'O' options. Its solid and robust presence feels energized and motivational making it an excellent choice for graphics for gyms, personal training, and workouts.
Uni Sans is presented by Fontfabric. It comes in four font weights set in Caps and is available for free download. The original link also serves as a great dose of inspiration for the ways in which this bold font can be used.
Trampoline is a youthful, all-caps, sans-serif display font that features all English letters A-Z with slight variations between the uppercase and lowercase letters. Its playful yet legible style is optimized at a large scale, making it fitting for packaging, headlines, websites, and posters.
Langdon – (all-caps example only)
Langdon is the new typeface from XLN Telecom. This is a serious and strong typeface that is available for private and commercial use. It was created in partnership with Steven Bonner, a graphic designer, illustrator, and typographer based in the UK.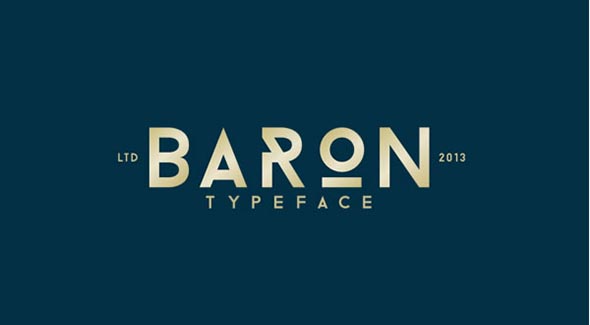 This uppercase display typeface is inspired by the classic sans serif font family. This is ideal for usage in posters and headlines. We strongly recommend using this font in both digital and print projects because of its unique look that stands out from the crowd.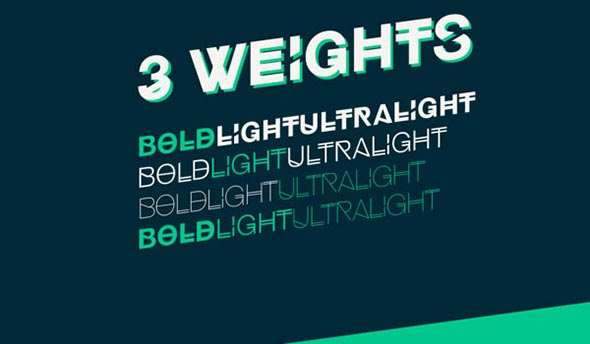 Hipstelvetica is inspired by the legendary Helvetica design. This experimental display font family it's completely free for both personal and commercial use. We recommend using this for headlines because it has a very strong, geometrical look.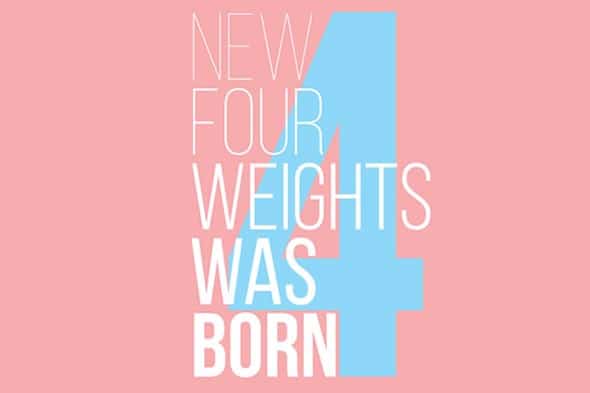 Bebas Neue is an elegant sans-serif font family which includes four new members – thin, light, book, and Regular. This typeface is proper for the web, print, art, or even commerce. The funny thing is that this font became so popular that is now known as the "Helvetica of the free fonts".
The "Code" is a free font and is an edgy and classy typeface. It can be used for any type of graphic design or other items like posters, logos, or banners. This font is so versatile that it can be used in many different languages and it's compatible with both Mac and PC.
Komoda – (all-capital letters font example only)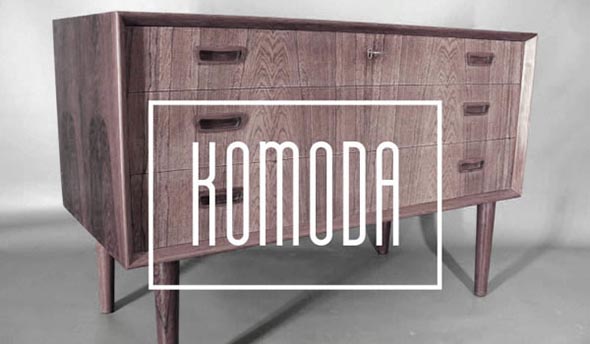 Komoda is a sans-serif typeface that works great for headlines, editorial, and poster design. This typeface is free for both commercial and personal use. The original link also includes a presentation video where you can visualize all the great characteristics of this font.
This Fancy Me font is modern and it is ideal for editorial designs. This typeface is free for personal and commercial use as well. This is a truly great font and we recommend downloading it and keeping it in your font inventory for further use.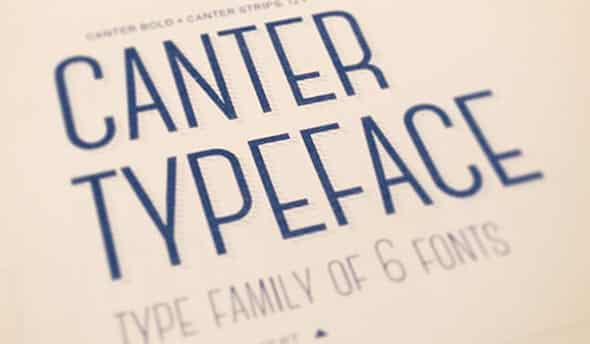 Canter is an all caps that was created as a display for titles, posters, or headlines.  This outstanding typeface comes in six different weights. It was created with care by Christopher J. Lee, a graphic designer based in New York, USA.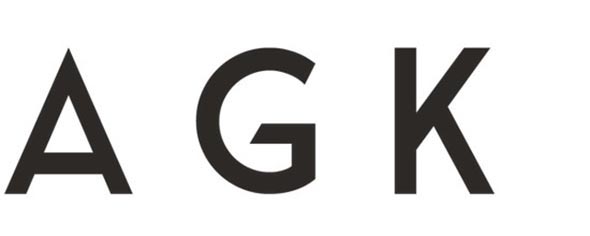 Moderne Sans is a sans-serif typeface created by Marius Kempken and inspired by the 1920s font family. This font is available in case letters, lower case letters, numbers, and some alternative letters too. It's a great font to be used in both digital and print designs and you can use it for private or commercial projects as you please.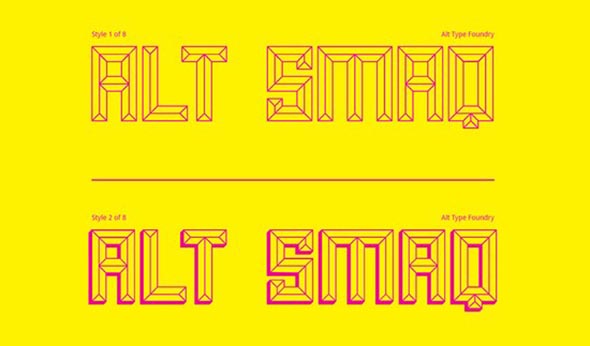 Smaq is a decorative typeface that comes in 8 free styles. This font is suitable for posters, logos, headlines, etc. It includes caps only and basic Latin and Greek glyphs. We recommend using this bold, unique font with vibrant colors so it will stand out from the rest and give your designs a professional look.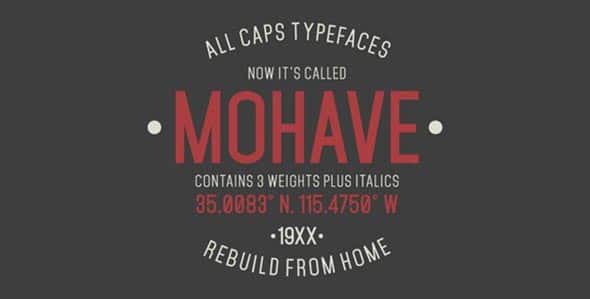 Mohave is an all caps display typeface, designed for large points setting. This includes three weights, it's regular, semi-bold, and bold and italics. Mohave is good to display headlines, posters, titles, etc. This font was created by designer Gumpita Rahayu and it's so versatile that you can download it for free and add it to your design inventory to use in future projects.
This sans-serif typeface is inspired by Futura. ADAM.CG is a clean and sleek font that works for headlines, posters, titles, and captions. ADAM.CG was updated and it now includes brand-new glyphs and over 2.000 kerning pairs.
SIMPLIFICA is a simple and modern sans-serif typeface. This font was delicately designed and provides a clean and pleasant reading. It's clean, uniform look makes this font perfect for web design and even presentations, so your ideas will stand out from the crowd.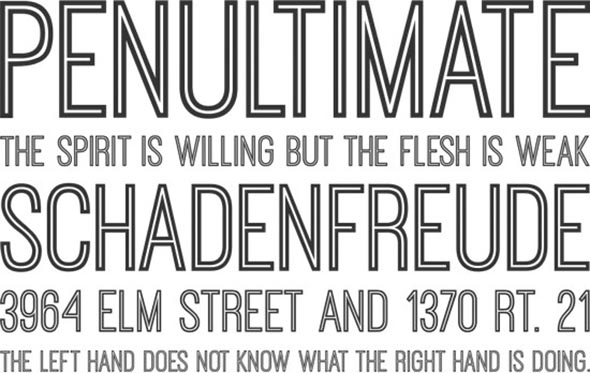 Ostrich sans inline is the new version of Ostrich sans round. Not only this version is a little more polished, but it is also completely free. We recommend using this font for titles, posters or headings but you may pair it with a more simple font to avoid an overly complicated look.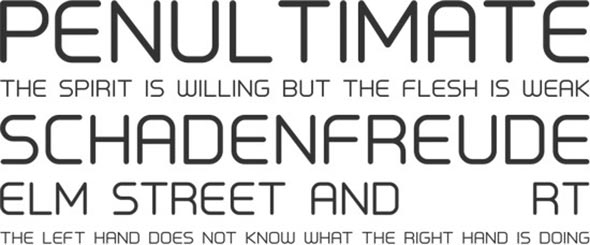 Primus is a geometric typeface with rounded edges, created to achieve a high visual quality. This typeface is perfect as a display typeface that can be used for logotypes, brand identities, advertisements, and much more. When you use it for text, Primus creates a clean and enjoyable reading and that's why we recommend you download it.
This Chawp display font supports several languages. The free download includes OTF, TTF, and web font files. Chawp has a nice chalkboard-inspired look to it and it's perfect for web design or other graphic design ideas you may have.
Multicolore is a colored rounded free font. By using it, you can easily create clean texts for headlines, posters, and much more.  This comes in .otf font format, .eps, and .ai vector formats. It's also a great choice if you want to create some abstract art: just stack a few characters and there you have it!

Manteka is ideal for writing the text for headlines, posters, etc. This font is free for personal works, but it's also available for commercial use. It has a rounded look and it's one of our favorite choices when creating strong, vibrant posters.
Unveil is the ideal font for different applications.  You can use it for posters, invitations, magazine spreads, or even logos and t-shirts. This vector typeface is available in five different styles. Unveil can be downloaded for free so you can use it in your present and future projects.
PORTICA™ is a simple sans-serif typeface that is inspired by Helvetica. This new font is perfect to create an expressive typography project. It is unique geometrical look makes it the perfect choice to use in poster design or even web design.
Glamor Type Family contains a set of 24 fonts and more than 200 unique characters per font. This is also free for personal and commercial use. It comes as a .zip file with .otf and .ttf files that are free to download.
Final Thoughts
In today's digital world, people pay much attention to typography, design, and how everything looks around them. If you are a freelance web designer or graphic designer, or you work for a digital agency, it is important to use the perfect fonts for your projects. As you probably realize, fonts can either make your design stand out or it can push away visitors and clients.
With that said, take the time that is necessary to make sure your all-caps font selection is truly a great fit for the project. It can be wise to get a second opinion before finalizing which font you choose.