Home » Articles »
Line25 is reader supported. At no cost to you a commission from sponsors may be earned when a purchase is made via links on the site. Learn more
A digital product design and development project can miss deadlines. It sometimes can overrun its estimated budget for any number of reasons. One such reason is a lack of effective collaboration among team members. This is especially true for large or complex projects or large teams.
Manual collaboration systems seldom hold up when the activity becomes frenzied.  These also can't normally handle the teams when they become large and unwieldy.
A better way is to use collaboration and communications tools. Take a look at those presented here. These tools tend to be impervious to a project's size or complexity.
You might be a member of a team consisting of hundreds of fellow members. Or, you can be one member of a team of two or a freelancer. Either way, you'll stand to benefit from using one of these top tools.
Mason
It makes good sense that both task management and team collaboration tend to be most effective when everything that needs to be done can be done on a single platform. When multiple tools or apps are needed to perform these tasks, it places a needless burden on those involved.
Mason provides that all-important single platform. This design, build, deploy, and collaboration tool's approach may seem somewhat radical, but once you see the logic involved you'll understand why this may be exactly the tool you've been missing.
Task management and collaboration functions are nicely integrated into Mason's design and development process instead of being provided as addons. This ensures a smooth workflow because the players know what everyone is doing.
Mason's approach is to first break down a digital product into its elemental parts. The product is then reassembled using a modular or building block approach. Once deployed, the product can be maintained and modified without having to wait for the next deployment cycle, and many changes can be done by non-tech oriented users.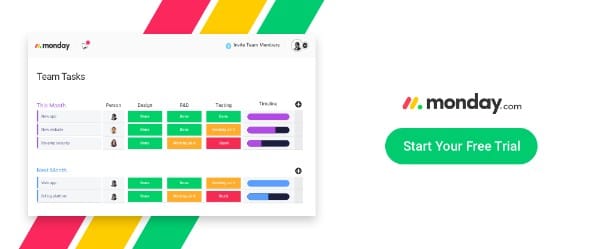 One thing monday.com's users like about this team management tool is its colorful and easy to understand dashboard displays. That's not the only reason of course. More importantly, monday.com is intuitive, it can be used in any industry sector, by teams of any size, for projects large or small and for multiple projects as well.
monday.com also excels as a collaboration tool. It promotes project transparency, encourages team communications, and gives team members a greater sense of empowerment. Because this team management tool is so easy to install and use, it's also a good fit for teams that are not involved in tech projects or whose members do not have a tech-oriented background.
Team leaders and project managers like this tool because it can easily be adjusted to fit their workflow instead of having to change the workflow to meet the demands of a particular tool.
Fleep does several things very well. It encourages team collaboration, and it ensures safe, secure, and transparent communications. You can always see who is participating in any of this text-based collaboration tool's conversations. Fleep also indicates who is available or waiting to converse, and who is in the process of writing a comment or a reply.
Fleep also integrates with appear.in if you wish to communicate via either audio or video. Notes and messages relating to a conversation can be pinned next to the conversation and these messages and the conversations themselves can be securely saved for later retrieval. Pertinent links and files can be saved as well.
Fleep's Basic Plan is free. You simply need to sign up to open an account. Or, you can sign up for a 30-day free trial of the Business Plan.
Visual Inspector
If you're a developer who constantly finds collaborating changes with the design team to be a struggle or a designer who faces similar problems when attempting to collaborate with a client, choosing Visual Inspector will make things a whole lot easier.
You can make changes to live websites in real time without involving coding and work other issues in real time as well. A subscription to Visual Inspector costs only $9 per month but first check out the Early Bird offer at the one-time payment of just $49.
Conclusion
Collaboration systems built around rules and regulations can serve their purpose well. But their performance tends to degrade over time. This is especially so for larger teams or more complex projects.
That's all the more reason to invest in a high-quality collaboration tool. Take a closer look at the ones presented here. They are either free, or you can get them at a very affordable price in which case it will be money well spent.