Home » WordPress Themes »
Line25 is reader supported. At no cost to you a commission from sponsors may be earned when a purchase is made via links on the site. Learn more
Brick and mortar stores and cafes now also need a digital presence to attract customers and retain them. Along with a steady and engaging presence on social media platforms, cafes can also benefit from a website like other local businesses. You can use your cafe website to increase brand awareness, organize games, competitions etc. to draw more visitors to your website and store. Additionally, a website is also a good platform to keep customers updated with events, menu, news etc. related to the cafe. Moreover, you can allow your customers to place orders online and pick up at the cafe.
Creating a website for your cafe can be fairly simple with a CMS like WordPress. It does not require a lot of coding and you have the option to make changes to the website by yourself whenever you like. There are many WordPress Cafe themes available to choose from if you want to throw up a stylish, professional looking website really quickly. Below is a list of 10 best WordPress themes for your cafe website.
With options of more than 40 website demos to select from, Sage is a very good WordPress theme to craft your café website. You can explore the demo options and select the best suitable demo for your website. This theme has excellent customization options. You can customize different templates as per your requirements.
Setting up a web page is as easy as importing a demo page and replacing text and images. This theme allows further customization in the header style, layout style, header functionality, and animated slide show. With the Sage theme, you can simply use demo pages to create a website or customize the layout and style to create something completely new for your café website.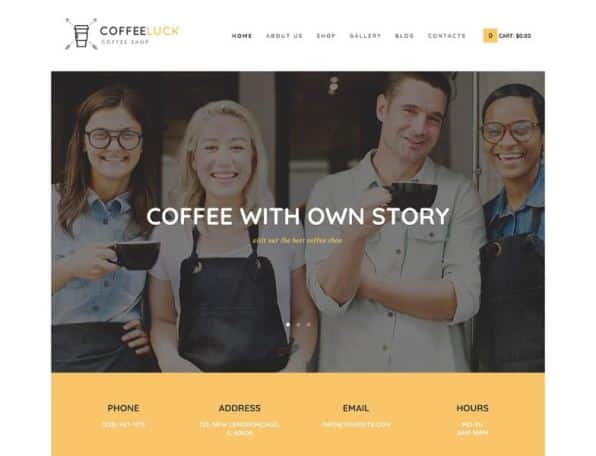 You can create a professional website for your café very quickly with the use of Coffee Luck WordPress theme. This theme may not have tons of demo options but it provides customizable features that can be used in different combinations to put together a unique website.
With this theme, you can create an image gallery, banner, slideshow, and promotional messages and offers. In addition, this theme also allows you to sell your products online and to create customer testimonials. Apart from that, you can also share your blogs on the website and create profiles of the staff members. For example, you can share some interesting facts about your products and chefs to add that personalized brand touch.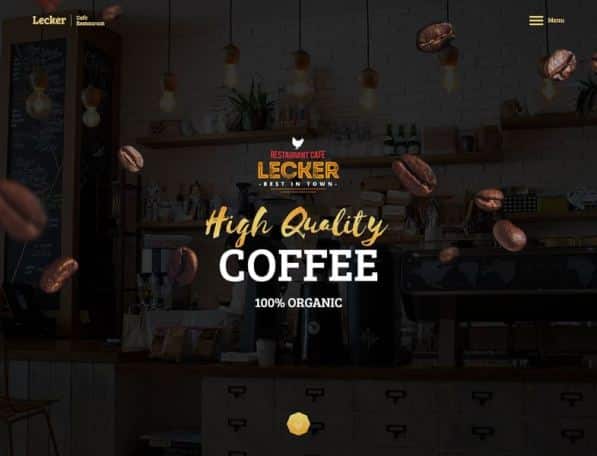 Lecker already has a demo page for a coffee shop website. This theme's design allows you to display high definition images on the home page with a wide and spacious layout. You can use this space to display attractive photographs of your delicious café products along with the theme and décor of your café.
This theme has fabulous settings to create multiple page layouts. It also allows you to explore different website styles. In addition, to help you with the creation of a website, the creators of Lecker has provided informative tutorial videos.
Divi is a perfectly designed theme for the website creation of your café. The café layout of this theme has all the required elements to build an aesthetic website. If you're in a hurry to get a website up and running then Divi is the best choice to create your café website very quickly. This theme also has an extensive number of customizable templates and layouts.
In addition, this theme includes tools to create customizable sliders, galleries, buttons, tables, video players, and much more. Also, it has a split testing tool available to experiment with the images and content of the website. It is one of the best WordPress themes for cafes with a rich quality of design and extensive features.
Correto has all the features required to create a professional looking café website. It has many templates with pre-built coffee shop website demo. You can select the best suitable demo for your website. This theme has a great feature that allows your customers to book a table online.
Social media integration provided in the theme allows you to easily connect social media platforms with the website to increase traffic. In addition, you can also sell your café products online with this website theme.
No matter which type of theme your café has, Barista can help create it on your website. It is one of the most versatile café themes to create a café website. This theme's demo includes traditional website layouts that can display opening hours, menu and location on the home page itself.
In addition, Barista is compatible with WooCommerce so you can sell your café products online. It is very easy to import this theme and to set-up your café website. Apart from that, it has more than 800 font options, so you can choose the best suitable font for your website.
Tavern is a little different compared to other cafe themes on this list in terms of style and layout. It is geared towards beer houses, bars, bistros and pubs. The theme provides 3 different home page layouts to choose from. Pages like table booking, reservation, gallery and team have already been created. So all you need to do is change the text and graphics and your website is ready to be launched.
The theme also provides settings for an online menu that can be customized to display categories, nutrition information, and recipes. It is also compatible with WooCommerce which is an added advantage if you plan on selling merchandise online.
Restaurant Café is a versatile theme for creating a café or restaurant website as the name suggests. There are several demos available to create a website for your café business. You just have to select the relevant demo and fit the content to create a website in no time. This theme has remarkable customization options with the WordPress Live customizer interface.
It enables you to customize the color, layout, and content of the website in live more. It is an SEO friendly theme that can improve your search engine rankings. Apart from that this theme supports email marketing and Google maps integration for further support.
Floury is a stylish WordPress theme to create an elegant website for your café. In case if you have a high-end café or bakery that serves coffee along with other delicacies, then you should definitely go for Floury. It has everything you need to create a grand website that emulates the feel of your café or bakery. This theme enables you to highlight the main items of the menu through different website templates.
Apart from that, you can also create staff bios to add that authenticity factor in the website and give it a more personal feel. The best part of this theme is you can merge different elements from different demos to create your ideal and unique website.
Grand Restaurant is one of the most popular themes to create a website for café. There are a lot of modules and page sections available in this theme. These modules and page sections help you to create your ideal website without any compromise. It is a customizable theme with a number of demo options. With the use of a visual interface, you can customize fonts, background images and colors, button styles, and layout settings without any coding at all.
This theme also allows you to add widgets, testimonials of customers and location maps. In addition, it is compatible with WooCommerce so that you can sell your café products online.