Home » Inspiration »
Line25 is reader supported. At no cost to you a commission from sponsors may be earned when a purchase is made via links on the site. Learn more
Face masks have become such an essential part of our daily wardrobe, that it doesn't even feel weird anymore. Previously, anyone would check their pockets for car keys, wallets, and cell phone before leaving home. Face masks have been subconsciously added to this list of items you do a quick check for before heading out. This global pandemic has been challenging mentally, emotionally, financially, and in every aspect of life. However, face masks seem to have gained their acceptance in society. They don't feel imposed precaution measures; instead, they are seamlessly and smoothly integrated into our fashion sense. Brands are getting creative with face mask designs, and the customers are responding to this trend.
There are many excellent and appealing face masks available around the world now. You should have a look at these fantastic face mask designs that are inspiring, different, and efficient. All the masks mentioned here will also have specific safety standards, as compromising them would lead to the mask designs being useless. Have a look:
Kowabana brings back memories of physical media with this mask design. The face mask follows a repeating pattern of C.D.s with flare and sparkles subdued by the shimmering cascade. The cascade makes it look like a memory of the past and drives that nostalgic feeling home. He claims that this mask design was his tribute to everything that kept him creatively inspired during this pandemic. He is a big fan of pastel colors, music, and anime. The design is meant to hold more relevance than entertainment. It shows how the simple joys of pop culture could also mean something so symbolic.
This is a rather bold design that not many designers would attempt on a face mask.  It looks like sludge with radioactive design elements. The colors opted by the graphic designer Freesugar are neon green and purple. This amplifies the feeling of 'Goo.'  This face mask design is eye-grabbing. Free sugar is a designer who loves using monsters and horror style illustrations in all his design work.  This makes this mask rather exciting and makes it stand out from the crowd.
This mask makes use of typography and is a joy for lettering fans. The design uses warm and friendly colors with bouncy typography. Hanifa is from Kazakhstan, describes their approach as moving around the design with letters as their central approach. Many people take letters to be a means of education and communication. For Hanifa, they are also elements of art. When you connect colors, merge them in composition, and introduce other design elements, letters can also evoke emotions. This face mask is designed to portray optimism, which is required in abundance for the time we are going through now.
What can be better than to wear a smile during this difficult pandemic time? The basic idea behind this simple yet effective face mask design is to put a smile on people's face(quite literally).  Ksenka, the designer of this mask, took his son's drawings as inspiration for these mask designs. His son dreams of being a designer and has developed his unique sense of drawing. Ksenka is motivated in his freelance career to providing for his son. Simultaneously, since his kid wants to follow in his footsteps, he keeps encouraging him by making his hobby illustrations into real-life projects.
This is such an impressive face mask as there is no design trend or rules that have been followed to design it. It is a blue base mask with random strokes and dried paint patches and patterns with no symmetrical or aesthetic sense. There is a well-knitted border of dotted lines that breaks from the abstract design style in this chaos. This mask design is guaranteed to leave people puzzled and interested.
Needless to any introduction, Darth Vader is one of the most well-known characters from the famous movie franchise – Star Wars. His backstory is intense, and the reason behind his attire even more so. Darth Vader also wears a mask that aids his breath and hides scars of his previous battles. This just further enhances the importance of masks in fiction and non-fiction alike. Ogla Shvartsur has used a white background and illustrated Vader in a washed, faded texture that looks very aesthetic. This face mask is designed for Star War fans and the general public as well. Its aesthetic appeal would make it buyable for anyone.
If you are a true impressionist era fan, you would love this mask that uses the same style for a beautiful picture. This is a classic painting that shows off the pastel swirls in blues, yellows, and greens. Two elegant women are boating on the pond, seemingly having a conversation. The composition leaves the viewer confused and intrigued. It truly feels like wearing art on your face.
If you are a true impressionist era fan, you would love this mask that uses the same style for a beautiful picture. This is a classic painting that shows off the pastel swirls in blues, yellows, and greens. Two elegant women are boating on the pond, seemingly having a conversation. The composition leaves the viewer confused and intrigued. It truly feels like wearing art on your face.
This is one of the most unexpected designs on a face mask, simply because the attention to detail is mesmerizing. Curious animals are peeking out from the fine-lined bushes. The monochromatic line art makes it all the more immersive and appealing to the customers. Gunadika is from Indonesia.
She explains that their thought process focused on the tendency people feel to be in nature. She understands that people need to wear face masks and maintain social distance. Still, she also argues that it is natural for people to want to go to the mountain or the beach to feel connected with nature. Hence this mask can be looked at as an escape in nature.
This is another face mask design by Linda Woods that focuses on plain typography and its message. Knitted with dotted lines on the borders, this face mask uses bold letters to spell out 'BUT FIRST WASH YOUR HANDS.'  This sentence makes perfect sense with the current pandemic. It is a reminder that you should remain sanitized and hygienic to avoid any germs or viruses. It also can feel like a funny reminder or an educational one.  Either way, it is straight to the point and aesthetically pleasing, too, simultaneously.
This is an abstract artwork that looks beautiful beyond words. For a mask design, this is extremely beautiful, and anyone would want to wear it. It has an eerie vibe in a composition where there are a lake and its misty reflection. It holds the viewers' attention and engages their minds to understand what is going on.
This is a beautifully hand-crafted face mask design for all the dog lovers out there. The mask has the lower half of a pug's face starting from its nose and its lower face with mouth and chin. The color combination used on this mask is soft pastel colors that bring out the mask's animated style. It has a well-knitted border too. There are also black and gray variants available. It is a unisex mask that uses cotton, fabric, padding, velveteen, elastic, and thread.
This is a very good face mask design that follows an innovative idea that is very useful. The mask's name is a high-risk alert face mask, and it has a logo on both sides that indicate a symbolic representation of risk. It is made to be worn by people who have detected positive for COVID-19 or people of the age and diseases that make them more prone to contracting the disease. It would help others crossing paths with them to be more alert around them and maintain their distance. This is an extremely important and useful face mask design that also looks aesthetically pleasing.
Bojan Gulevski is a logo and brand identity designer that has worked on several projects. In this face mask design project, he kept it simple with effective typography that reads 'IF YOU ARE READING THIS, STEP BACK TWO METERS.'  Though simple, this face mask is very useful in design and idea. The text size is selected so that it would be difficult to read from more than 2 meters. It is a subtle reminder to anyone in closer proximity to step back without offending them.  It is a genius design that also looks aesthetically pleasing.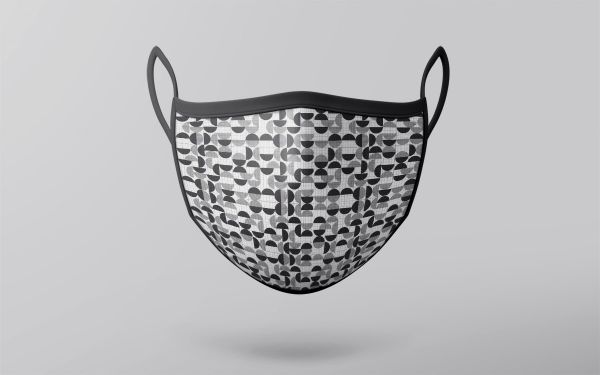 This is a face mask design that screams 'graphic designer' in its approach to design. It has patterns made out of sleek abstract shapes. It is a modernist style that looks fashionable and urban. Green-in-blue is a designer who aspires and aims to create vintage-inspired but modern designs. It has a mid-century vibe as it is nostalgic and warm and looks professional due to its touch of wabi-sabi.
This is a very artistic looking vendetta face mask design. The nose and the structure are given to the mask rest nicely on the actual face, making it aesthetically pleasing. It is a motorcycle mask with fantastic quality. The design is such that it would be appreciated a lot by urban fashionistas and friends.  It is a unisex mask and can provide extra cushioning to your neck too during peak winters.
These are a treat to the eyes and a different taste for your hands in terms of texture. Kris and Tasia have created a great collection of embroidered character face masks where they cover superheroes like Spiderman, Ironman, Captain Marvel, and much more. They also take feedback from the customers to design a mask according to their wants and demands. The detailing on the masks is unparalleled and looks better than digitally illustrated masks. They are handmade and use cotton as their base material.
This mask has a beautiful lush of nested ferns that offer a preview into the painted world of life and greenery. Pamella has made use of subtle shading to add a layer of realism to the mask design. The entire design feels pleasantly hypnotic. The mask design focuses on serenity and relaxation. It has a powerful aesthetic appeal, as well. She also says that all her design inspirations somewhere influence the Brazilian flora.
The classic line 'I'll be there for you' by the song Rembrandts did for the iconic show –millions know F.R.I.E.N.D.S. of people. It is one of the most comfortable go-to shows that cover humor, emotions, friendship, and other feel-good emotions. During this pandemic, many people would have rewatched and binged on this show with their loved ones. This face mask design takes on the same font and style of writing the show's title. It adds a funny yet informative punchline 'from six feet distance' that works as a sweet reminder of social distancing.
These are 19 fantastic face mask designs with different approaches and styles that make essential wear look more aesthetic and fashionable. Some designers go for abstract art, and others focus on hitting the right nostalgic moments or memories. All these face mask designs have a lot of thought and conceptualizing behind them. We hope you find your design inspiration from these lists of face masks.