20 Awesome Edge Animate Templates
Using HTML5, JavaScript and CSS3, Edge Animate is a development tool offered by Adobe. Adobe Edge Animate, also known as Adobe Edge, is a web development tool that uses HTML5, Javascript, and CSS3.
All Edge Animate projects are compatible with HTML5-compatible browsers.
Here are 20 awesome Edge Animate templates for sliders, charts, infographic elements, progress bars, hover effects, maps, carousels and many more. Check them out!
Here are 6 Edge Animate projects with animated SVG Donut Charts for infographics, statistics, dashboard charts and other data visualizations.
EdgeSlider is a responsive, animating, editable slider for Edge Animate. You can use it as a simple image slider or to play animations. It's optimized for mobile and desktop.
This responsive UI dial and image slider has many useful features, such as enabling a side menu so your users have more UI navigation options and navigating between internal pages using buttons within a page.
Here are some animated flat pie charts and progress bars that can be used for interactive infographics on your website. You can easy edit font, colors, and values.
Here are some Edge Animate projects with resolution scalable vector graphics (all graphics are SVG files), easy to customize colors, and more.
Wheel Of Luck is a cool animated project that runs on all platforms. Enjoy this popular game on your site!
Here are some Edge Animate projects with hover effect animations. These are perfect for icons in circles. You will get 28 Edge Animate projects with graphics that are pure CSS shapes, icon fonts or SVG.
Here's a 3D business card with fully editable fields and images on the front. The card flips smoothly to reveal the back info as well.
This "Interactive SVG Maps" is built by Adobe Edge Animate CC and runs with Javascript based on SVG. It can be scaled to any size without losing quality.
This is a 3D carousel that combines the visual power of Edge Animate and the awesome performance and flexibility of Greensock GSAP.
This is a fun slot machine that is customizable with a JSON data file but also, has an arm you actually pull and release to spin the reels.
This is fully customizable and responsive and offers full support for touch devices, conventional menus, and mouse wheel input types.
This is a set of professional designed, animated banners in the 3 most used web banner formats: Medium Rectangle, Horizontal Leaderboard, and Vertical Skyscraper.
This comes with an easily interchangeable banner color scheme, logo, link, and font size. Host runtime files are on Adobe CDN. You will receive the files in PSD format for easy logo changes.
Zoom Kinetic Text is responsive, scalable and easy to modify. It can be included anywhere from an ad, to a slideshow.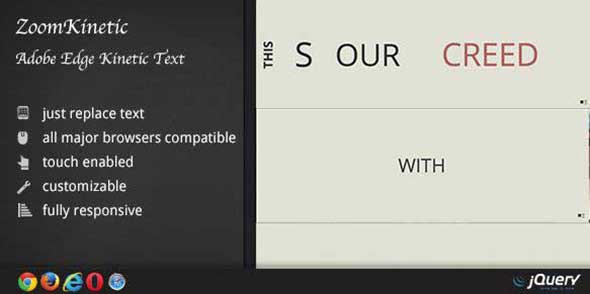 This is an Animated Christmas Card in 800×600 px format. This animated card uses 10 different Tangram Christmas shapes which serve to tell a simple Christmas story. All text is editable.
This is a multipurpose collection of modern animated counters with beautiful color schemes. You get 16 Edge Animate files which will perfectly integrate into any website.
Here are some animated HTML5 (Adobe Edge) Banner templates in 4 formats: Medium Rectangle 300×250, Rectangle 180×150, Leaderboard 728×90, Wide skyscraper 160×600.
This is a 3D Javascript cube that can be populated with a local XML file. It responds to swipe gestures (mouse or touch).
This is an animated Logo Intro / Logo Opener, with a realistic animation. The base format is 800×300 px, and automatically adjusts to any width or height you need.