Home » Website Templates »
Line25 is reader supported. At no cost to you a commission from sponsors may be earned when a purchase is made via links on the site. Learn more
Event Organizers/Managers do project management to create and develop large-scale events such as conferences, festivals, weddings, ceremonies, concerts, formal parties, or conventions. They have to study the brand, understand its target audience, plan the concept, and coordinate the technicalities before the actual launch of the event. Many large organizations and individuals often rely on such special services for their grand occasions. There are many event organizing companies in the market, which makes it necessary to stand our from the crowd, to create an impression and image that helps attract new clients as well as retain previous ones. For such a purpose, it is advisable for Event Organizers to have a spectacular website showcasing all their work and portfolio, and also proving their credibility with previously organized events.
In this roundup, we will help you identify such 15 awesome event organizer website templates and WordPress themes; you can select or draw inspiration from them to create your event organizer website:
Event Organizer is a popular choice for event organizing and management templates. It comes with five best variations for the homepage, each of which is clean and crisp. It is an ideal template for any event/conference related website as it encompasses all relevant sections needed by such sites.
The program section is beautifully laid out and well thought of, as it provides details of all necessary information like date, time, and lecture room. The speaker section talks about everything about the speaker, along with their social media buttons which provides ease of connecting and reading more about the speakers for people who are interested. The website is well structured, and it is ensured that relevant information is available to visitors. The user interface and hierarchy are rich.
Grenda is a beautifully designed, creative and elegant theme that is specifically designed for catering services and is suitable for events manager, event planners, Event Company at restaurants, bars, banquet halls, bakeries, professional bloggers in the food niche
This fantastic WordPress theme has two compelling homepage demos and has multiple options for each webpage. Services have variations of service and service single. The menu has options between menus, menu singles, and menus tab and so forth and so on. The gallery is designed well, and an excellent gallery is a must for the catering industry. The contact page has Google map integration, and the overall design of the template is aesthetic and visually pleasing.
As the name suggests, this website template can be used by music bands, music event organizers, nightclubs, DJs, music festival websites, and more. This theme acts as a perfect solution for music-related events as it also has an eCommerce support for selling event tickets online. This helps the client provide a one-stop solution to their visitors.
Apart from the accessibility, this theme comes with several nifty features that enhance the user experience further. There are five homepage layouts, to choose from, and each of them has a countdown widget, sliders, parallax, and video backgrounds, and a transparent menu as well that adds on to the user experience.
A happy event is a website template that is best suited for an event agency, who has worked as event planners in managing holidays, special celebrations, and important events. There's excellent emphasize on the design language of this template. The hero image has a gradient overcast that looks visually appealing, and there is a slideshow of images with zoom in and other transitional features.
The CTAs are placed strategically.  There are nifty features like eCommerce support that allows users to sell holiday costumes for special holidays and also a cost calculator to allow every visitor to calculate the event expense as they browse the event agency's website which is an excellent way of transparency and ease of access.
EventMe is one of the best website templates when it comes to suitability and adaptability of managing all sorts of events. The template is well equipped with powerful tools and features needed for an events site. It's great for multitasking as there is support for sending push notifications, making promotions, scheduling an event, and much more. There's flexibility of customization as well.
The best part about the template is its responsiveness which is a must when designing an event website. There are dedicated sections for testimonials, and many other features that help it stand out, like crisp and clear pricing table that gives clarity and transparency to the visitors, highlight sections from previous events which is a unique feature, not every event template has, a dedicated blog section for keeping an engaging blog culture to improve community engagement and thereby drive more traffic to your site, and timelines to ensure you don't miss out on any events.
The design of the WordPress theme is elegant. It is suitable for multi-purposes, like creating a website for concerts, events, meetups, conferences, exhibitions, and even sports. This template enables the client to sell conference tickets online through Events Tickets plus or WooCommerce alike. With nifty features, you can add schedules which makes it easier to comprehend and visually easy to navigate, promote your speakers, and organize and create amazing events for people to find and buy event tickets from organizers and more.
Event Champ is one of the most useful and popular choices for event website templates. It has a one-stop solution to the requirements of the event listing, event, congresses, activity, convention, exhibition, meetup, organization, seminar, workshop, and conference, and ticket sites. There are multiple templates for multiple purposes. The entire template comes with features like event listing, search system, venue management schedule management, speaker management, and many more.
The ease of eCommerce is reflected upon its broad acceptance of 90+ payment methods compatibility. There are various layouts and elements across all the available demos.  There is secure customization options, drag and drop option, options of changing colors, layout, and fonts. There's also a plugin for Google street view which makes your store very accessible.
Love Story is a beautiful WordPress template designed with elegance and style. It is the perfect template for wedding planning agencies, an individual wedding planner, and it can also be used for other event planning companies, like birthday, business meetings, training, and more. Furthermore, it can also be used for catering, restaurants, decorations, a florist store, ceremony planners, and gift shop and beauty blogs.
The template comes packed with useful features such as price tables, a dedicated page for portfolio, a blog, a gallery, and team modules each. There is support for eCommerce as well. There is also ease of customizations with options of wide and boxed layouts.
The Event is a responsive and elegant web template that caters to a wide variety of event-related fields such as Conferences, Meetings, Exhibitions, Congresses, Event Management, Events, and Conference websites. The overall visual appeal of the template is pleasing and uniform with necessary but minimal changes in the layout to cater to all different kinds of options.
There's a great use of illustrations and symbolism to make the content easy on the eye, and also appealing. The individual speaker post type, speaker list, and schedule features make the template very powerful and useful for the visitors to get all their information. It comes with the support of eCommerce as well, which allows the client to not only provide information regarding events but also sell tickets for the same.
MeetOn is an excellent WordPress theme for meetings, conferences, and events websites. Their approach to design is purpose-oriented, which makes it very responsive and easy to use.  The colour schematic is pleasing to the eye, and the separate blog page is an added benefit.
It comes with compelling tools such as appointment forms that allow quick registration from visitors, event planner that gives a clear and easy to plan all the upcoming events in a structured manner, event schedules which help clarify and give a clear image of what even is when. There are transparent pricing plans as well.
This WordPress website template has an outstanding design and performance. There are four demos available in this premium template, all of which modern, creative is and attention-grabbing. The layouts are readily adaptive and ready to use on the go, but it also offers element or page builder, that allows you to customize as per your taste with much flexibility.
There are packed featured to add on like schedule layouts, map for easy navigation to the event by the potential attendees, strategically placed CTAs for conversions, pricing plans that provide transparency, official sponsor section, and also speaker profiles that familiarize audience with the speakers and know what they can expect when they attend the event. With this, there's also an option to update your blog with a separate page for blog writing as well.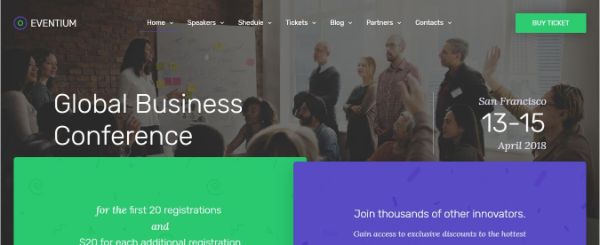 Eventium addresses and caters to the need for formal conventions, and it's reflected in its design language.  It has a very modern, neat, and clean look and is suitable for various purposes like conferences, exhibitions, gigs, seminars, and webinars.  It provides various layout options to choose from, divided into multiple sections.
It is a flexible and responsive template, and the best part is it is retina ready, which makes it mobile friendly and enhances its user experience and user interface by high standards, compared to some other templates available in the market.
Blazen is a great website template for exhibitions. There are many features and an even broader spectrum of options available. There are different homepages built with different animations and features and tons of such options to suit your purpose. Tons of customization options are available, and a well-designed template that helps give you a starting point.
It is retina ready which makes it mobile friendly and very attractive to look at that can lead to more engagement. There are separate pages for gallery, blogs, speakers, FAQs and more.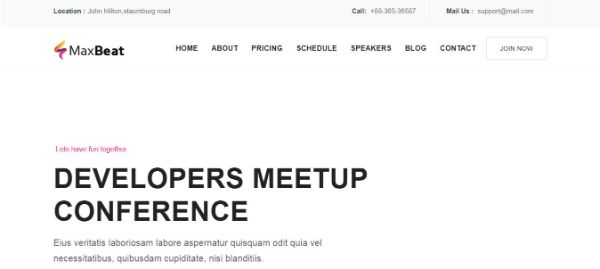 This WordPress template gives you the ease and access of personalization of layouts, add amazing features. You can integrate media forms, build spectacular pages, and do much more. It understands the importance of a website to market your events, forums, meetups, and conferences.
With such powerful and helpful features, maxbeat is also smooth and fast to learn. You can use features such as contact forms, blogs, pricing plans, and sliders. It comes with prebuilt index page demos and ten additional layouts from which you can choose. It enables visitors to find you easily and spread a word about your event quickly and efficiently.
Eventex is a fresh, fun, and nifty website template.  This template is filled with great features that can help you create a lasting impression on your visitors. The captivating design could lead to more visitors turning to attendees. It has a simple and minimalistic design, yet it doesn't compromise on the content layout as it segments the content correctly into different categories in a well-structured way.
There is also the availability of social media buttons, and a newsletter subscription form to collect data from visitors which can be useful for future email promotions.
This concludes our roundup of 15 awesome event organizer website templates and WordPress themes. It is essential to have a website in the service sector as it acts like an online persona of your brand, giving it a substantial image, and also an easy contact point between you and your potential customers. Refer to the templates above and plan your next website.