Home » Articles »
Line25 is reader supported. At no cost to you a commission from sponsors may be earned when a purchase is made via links on the site. Learn more
Although selecting a web hosting service doesn't need to be a complicated process, it still requires some careful thought.
The hosting service you choose must be able to accommodate your needs. This should include your website's capacity and its page loading speed.
Reliability is also an important factor. It is in fact a crucial one. Especially if you are running an online store or an online presence. Why? Because hosting reliability is one of the keys to your company's success.
You want your website, and all its associated business and customer data to be safe at all times. Besides that, you want it to be recoverable should an unexpected problem occur.
Pricing is important. Aside from any unique affordability issues you may have, it should not be the primary driver of your decision to buy. In the hosting business, you tend to get what you pay for. The good news is that there are plenty of hosting services that want your business.
Here are 5 of the best; followed by several tips to help you make the best possible choice.
          SiteGround is in the web hosting business for 13+ years with a global operation supported by five data centres located on three continents.
They run the latest technologies in Speed and Security as well as having a nearly perfect (99.99%) uptime performance. They offer one-click installation of the most popular Content Management Systems and developer/designer-friendly tools such as staging environment for WordPress and Joomla, GIT integration, Automatic WordPress updates, WP-CLI, Drush, SSH, FTP and more.
Not happy with service interruptions? SiteGround's in-house built server monitoring is extremely lightweight and can check the server status far more frequently than standard monitoring systems. Unexpected traffic spikes, an issue that plagues the web hosting businesses, are not a problem thanks to the Linux Container (LXC) technology which is extremely resource efficient and provides excellent stability.
Since SiteGround manages its own data backup system, you can rest assured that your website will always be protected against lengthy disruptions or loss. WordPress.org officially recommends them as one of the best and brightest hosting providers, and it's clearly a good deal to select them as your host of choice. Also, there is no charge involved in migrating to SiteGround from a previous host.
Slow loading, or other speed issues that may have affected website performance, will be history when you choose A2 Hosting as your hosting service. A nice set of options is in place for your consideration. Depending on your needs you can select private server options, including Cloud VPS hosting and managed VPS hosting, or managed or unmanaged dedicated server hosting.
You may want to fasten your seat belt when you sign up, since you're going to experience what A2 Hosting refers to as "screaming-fast" page loading. You can expect 99.9+% uptime as well, plus 24/7 Guru support, 365 days of the year.
If "screaming-fast" isn't good enough for you, consider A2 Hosting's Turbo Server or SwiftServer options, which offer page loading speeds that are 20 times faster than what any of the competition can provide. A2 Hosting has data centers in Michigan (its primary data center), Singapore, and Amsterdam.
Has your present hosting service delivered the good or bad news that you've outgrown the limits of your shared hosting plan, and it's time to move up to a managed VPS? Maybe it's time to see what GlowHost can do for you.
Their Elastic Site hosting plans provide everything you need in the way of reliability and dedicated resources; and it's every bit as easy to manage as the shared hosting that you are used to. The best part is they will migrate everything to Elastic Sites for free, and there will be no downtime of your web site or email services.
If you're the proud owner of a high-traffic website, a high-profile website, or one that fits both descriptions, consider giving WordPress VIP some serious thought. Their hosting services are provided on a flat-fee basis, irrespective of how much traffic you're experiencing or how much your disk space requirements may change or fluctuate. This hosting service provides other services as well, including checking your code for optimal performance and security.
Pagely – Managed WordPress Hosting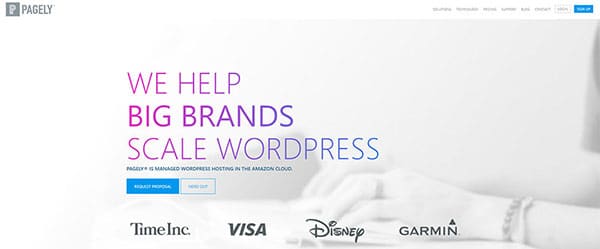 Pagely is not for every website owner, but if you run a large WordPress site, typically in publishing, enterprise, higher ed, SaaS etc, this hosting service is often the ideal choice. They offer flexible solutions for projects that require high availability, and they use their own security suite, caching system, and CDN. When top-tier hosting for big WP is on your list, Pagely is an ideal partner.
Tips for Choosing the Right Web Hosting Service
Perhaps you've arrived at decision. Given what these 5 hosting services can provide, it's bound to be a good one. Still, it wouldn't hurt to check out the following tips. By doing so, you can be assured that you've crossed all the t's and dotted the i's before you hit the purchase button.
Start by asking yourself a question; namely – What is my website about, and what do I expect from it? Answering this question should help you narrow your choice to one or two hosting services. You won't, for example, require a premium service featuring all the bells and whistles for a website or blog you're treating as a hobby. An online store, or a corporate website is obviously an entirely different animal.
What does the future hold? What are your plans for your website or blog? Is it likely to grow? If it's an e-commerce site, and your business takes off, you'll likely have to scale up your hosting requirements. This could require changing hosts, unless the one you choose can take scaling up into account.
Make it point to know the support options a hosting service offers you. If you're running a business, it's important that downtime or any other technical disruptions be kept to an absolute minimum. Don't settle for anything less that highly-responsive, 24/7 technical support.
Hosting companies will naturally tell you what they offer. What you may actually experience can sometimes be different; whether it's in terms of hosting performance or customer support. Reading customer and user reviews, together with those produced by professional reviewers, is always a good idea. It's to your advantage to see what issues customers may have experienced and the hosting company's response.
Pricing is important, but basing your decision on pricing alone can be a mistake; especially if you look for the lowest-priced plan. You'll usually get what you pay for in terms of performance, reliability, and customer support.
It's natural, when you see the title "Terms of Service", to skip to the end, and check the acceptance box. You'll serve yourself well by reading the Terms in their entirety. Pay special attention to what the company's refund policies are.
Don't sign up with any hosting service that lacks a backup plan, or clearly explains what the plan is if they have one. Their being able to rapidly restore service when an unanticipated event occurs is fine; but, it's little help to you if your website or data can't be recovered.
Security breaches have almost become a fact of life, and hosting services also experience them. Check for, or inquire about, a Secure Sockets Layer. It's designed to safeguard your information and transactions, and those of your customers.
In Conclusion
With 5 top-of-the-line web hosting services to choose from, and with our series of tips to help you make your choice, you should be in a perfect position to select one that will fit your needs to a T. We still recommend reading the reviews, but you can expect excellent performance and support from these hosting services.