40 Institution Website Designs That Are NOT Boring
Add to Flipboard Magazine.
Institutions are a vital part of our society and they must use various methods to promote their activity and make their presence know in the online medium as well. That's why each institution must have a presentation website where users can learn about their activity, projects and also have an exciting online experience. Institution websites come in many styles and designs, some of them even having a very artistic and creative look, while still remaining professional and educative.
In order to attract new visitors, institution websites should have a strong online identity. Online identity plays a critical role in differentiating between distinct entities and offering a stimulating browsing experience.
All 40 institution website designs featured in this article are responsive, well-branded platforms that include great animations and stylish design elements. Gladly, each one of them looks both professional and creative. What do you think about them? Let us know in the comment section below.
This vivid and lively site was created for the 70th anniversary of the National Institute for Agronomic Research (INRA).
This is United States Air Force official site, where, in an interactive manner, users can learn about great opportunities for enlisted airmen, officers and health care professionals.
The Discovery Building is a public-private biomedical research partnership, located on the University of Wisconsin–Madison campus. Their presentation website is both professional and creative.
World's Easiest Decision is an eccentric campaign to raise support for a serious commitment at the UN. The website meant to drive signatures to pressure leaders into taking climate negotiations in Paris.
This is campaign site showing different "time battles" that families go through every day. This website is extremely interactive and fun to browse.
MR Associates is one of the most important house building companies in India. They help the UK to support 'exempt accommodation' providers with a range of housing benefit. Their website is clean and well designed.
This is the site of the cultural institution named Brandts, which was founded in 1987 in an old industrial building complex under the name of Brandt's Textile Mill.
The Museum of the World is a highly interactive experience through time, continents and cultures. This British Museum site includes one of the most fascinating items in human history. Their website is just as fascinating as the museum.
Boris Ignatovich is an avant-gardist of the Constructivism Epoch, who spent 35 years of photojournalism developments in Russia. This website is simple, yet creative.
This is the site of the Crop Trust, an international organization working to safeguard crop diversity. It has a blue color palette and uses different shapes and angles for a more dynamic look.
These two unique microsites show the exact data on migration for each of the regions in England and Wales and also shows how different migrant groups are described. They have great visual representations.
Austria Summer Moments is a global campaign for Austria. It involves the interactive exploration of high-quality videos of crystal clear lakes, Viennese museums, and Tyrolean mountains.
This is a site that WWF France used to announce that on March 19th it will switch off the lights of the Eiffel Tower on EarthHour.
This site is a house hunting journey that takes you through all required steps on your adventure to find your dream house.
On GeneLab, there are conducted cutting-edge biology experiments in space and are made discoveries that innovate the frontiers of understanding on Earth. Their website is very informational.
This is a visual journey to discover inspirational films and photographs in order for Rolex to find five Laureates and five Young Laureates who have groundbreaking projects to improve life on the planet. The website is fun and has an incredible design!
This Google Art Project allows internet user to explore over 5000 iconic street art images from around the world.
"I remember" is a site designed to help fight Alzheimer's disease and to recall us how lucky we are that we can remember things. The website delivers some powerful messages in a creative way.
With the help of this site, Urban Ministries of Durham is selling the naming to fight homelessness. It has a retro look combine with modern elements.
This is an online magazine promoting Danish design and architecture. It was launched in 2014 with support from the Danish Ministry of Business and Growth and the Region of Southern Denmark. Its design is simple and clean, without being boring.
Return to Hope is NATO'S website which presents in a fascinating documentary the story of Afghanistan told by some of the exceptional people who returned there, determined to help create a better country.
Personal Brand Institute designed a unique method of creating personal brands called the Diamond method. Their website is very interesting.
The Design Council is an enterprising charity founded in 1944 which works to improve people's lives through the use of design.
Created in 2015, this site is celebrating JFK's legacy on the 50th anniversary of his death. This official interactive documentary presented the legacy that left a real impact on the U.S.
Nowy Teatr is a community created by Krzysztof Warlikowski and its main goal is communication and creating a meaningful dialogue with the audience.
ETO: 10 Year Timeline
To celebrate Energy Trust 10 year anniversary, this interactive site explores Energy Trust of Oregon's history including the development of programs and services.
Designed by Cramer-Krasselt Milwaukee and LISS Interactive, the Police Department of Milwaukee from Wisconsin has a website that will definitely surprise you.
The National LGBT Museum is the vision of the museum of LGBT history and culture. Museum specialist, Tim Gold, created the Velvet Foundation to fund and create the new museum.
The University of Coimbra is the oldest University in Portugal and one of the oldest in the world. The site contains remarkable materials to promote visiting the University of Coimbra, a UNESCO's World Heritage.
The National Academy is a community of artists, students or museum-goers which give the unique opportunity to work in studios with natural light under the instruction of a highly qualified faculty.
This site features a quiz to build awareness for Reebok's non-profit BOKS program, a before-school physical activity program designed for children.
This site contains a French photo and video essay focusing on the Quebec elections. Director and photographer of the essay is Jérémie Battaglia.
Worldwide, there are over 195 million stories of malnutrition. Starved for Attention underlines how increased childhood sickness and early death can be prevented with effective nutritional interventions. Their website is straightforward and effective.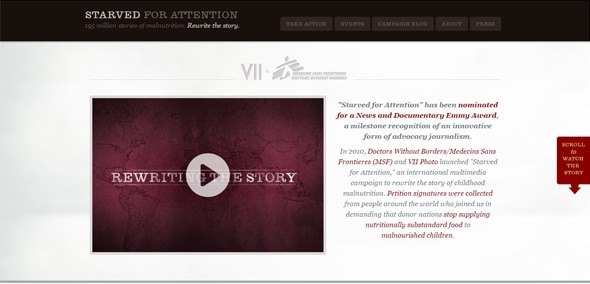 This Australian Red Cross site explores the devastating impact a nuclear blast and the horrific consequences that can't be limited in time and space. They have a minimalist but impactful website design.
War Child promotes a world in which no child's life is destroyed by war; every child has the right to live freely, in a world without fear and violence. Their website has a white, black and mostly red color palette.
Autostrade is the Australian government trade commission which contributes to Australia's economic prosperity by helping Australian businesses, education institutions, tourism operators, governments, and citizens. They have a professional website design with a user-friendly layout.
This is Denver's Union Station site, a station which accommodates nine types of pedestrian traffic, RTD regional buses, intercity buses, light rail, etc. Their presetation website uses a large video slider on the homepage.
This School admission site of Raffles Institution is a modern one, with a fresh navigation menu where each section leads coherently to the next.
Afgn describes in some amazing photos the Helmand Province in Afghanistan, known as one of the most dangerous places in the world.
Head2Heart Campaign
This is the site of Collyde Summit, a gathering of passionate believers in Jesus, from the US, which desires to change the world.