40 Beautifully Animated Website Designs
Add to Flipboard Magazine.
Let us first talk about what animation is and then how it can be successfully used in web design. First of all, you should know that animation is a high-speed display of a sequence of images that creates the illusion of motion. The resulting effect is an optical illusion of movement produced by the phenomenon of persistence of vision. This can take numerous shapes; however, the most widely recognized are motion pictures and videos.
Today, animated effects are important parts of a website's content. They are useful features that help improve users' interaction with the site. Designers can use as much animation effects as they think it's best for a website, but they must keep in mind that a site without any movement can look outdated and boring, just as a site with too much movement can turn into a chaotic mess. It's a thin line between these two, and web designers should masterfully use this technique if they want to have the best results.
Here are some beautifully animated website designs that use animation in different ways. Some of the examples below are fully interactive animated website designs while others include animation only in certain parts of the design. All are compelling examples of how animation works for different objectives.  Let us know which one is your favorite!
This is the site of a hairstyle salon from Vienna, with a tradition reaching back to 1862.  The design of the site is a clean one, with surprising photo animations.
Involve Digital is a digital marketing agency that gets the best results for its clients. Their site also features interesting, fun digital animations.
This is the website for Adidas Climachill, part of adidas.com. This beautifully animated site uses typography, photos and effects in order to create a smooth, interactive animated effect.
Trainrobber is a Los Angeles based VR agency specializing in creating immersive content for brands and their clients.
The jams featured on this cute animated site are made in Serbia with fresh and organic fruits. Check out the awesome way they integrated content with animation, right on their homepage.
The Cavalier is a black a white animated platform with a historical theme, in which a squire has to reach excellence in order to become a knight.
This simple but with clean site layout contains information about a yolk drink without cholesterol. They used a minimalist, plus the animated effects are pretty cool too.
This website design is likely to impress the potential readers of the Austrian newspaper Falter. The animations on the site illustrate a journey through 8 layers of hell, inspired by Dante's Inferno story.
Studio Marani is one of the most popular Italian communication firms. The animation on the site is somewhere between traditional and modern.
The Eyezen Challenge is an engaging gaming experience that allows users to experiment the Fanatic eSports star Martin "Rekkles" Larsson, using only their eyes.
The Next Rembrandt
Discover the story behind The Next Rembrandt (a 3D-printed take on the painter's style)  on a site with a smooth and stylish design.
The Boombot PRO is designed for those that demand the highest level of audio performance. The product is featured on a site with a simple layout for a maximum visual impact.
The new website for the France-based graphic design & digital creative studio, Poignée de main virile, offers a unique animated experience.
This animated website design is great for this new record label, which gives people the opportunity to have their music recorded in a studio.
Get Vive Ready
These interesting HTC headphones are promoted on an animated and responsive site that looks stunning.
This attractive website design was created for Nurture Digital, an agency that promotes online video campaigns for big and small brands.
This eye-catching animated site is making and selling custom parts for HARLEY DAVIDSON worldwide.
Step inside and explore the wilderness with the help of this spectacular animated site for the Jungle book movie.
The Discovery Building, which provides public space and two research institutes for campus and community members, has a user-friendly animated presentation website.
To celebrate the iconic fiftieth edition, the IFLY KLM Magazine, created a vividly animated site for the ultimate travel collection, presenting the 50 most beautiful, fascinating places on Earth.
This is the site of Nikos Koulis, a Greek jewelry designer. This website has a great design with a sharp and inspiring look.
DADA-DATA celebrates 100 years of the Dada movement. This vibrant site is a digital documentary consisting of interactive exercises and a web anti-museum.
This impressive animated site is the site of The Celas Fitness Club which offers spaces integrated with the club's architecture, characterized by their ample size and comfort.
This adorable, colorful with interesting animation website allows the user to send a Valentine playlist with a secret message.
Aaron Porter is a designer, filmmaker and creative. His site has a unique navigation pattern which builds a spatial context.
This sharp interactive online platform is the official site of the LA24 Exploratory Committee to bring the 2024 Olympic and Paralympic Games to Los Angeles.
This exquisite and elegant site is a virtual presentation space for Maeva Barriere, a French artist who's focal point research is the edible art.
This interactive animated site is enabling visitors to spin the globe to one of the 18 destinations and then stops on a random part of the world, such as Greece or Vietnam.
This lively site is the site of Wonderland, a digital creative studio that builds great online experiences & visual identities.
This absorbing art project is dedicated to all space pioneers and researchers of space. In an animated manner are shown the most important events in the history of space exploration.
This bold animated web design was created for the site of Active Theory, a creative digital production studio based in Venice, California.
Dac Davy's site, a 23 years old French designer, is a sumptuous black and red site that features the artist's portfolio.
This Adidas site has a metallic blue background and lots of video presentations for the revolutionary ACE 16 laceless soccer cleats.
This is a modern and suggestive site with a gray and white background that promotes Concrete LCDA, a European leader in custom interior layouts and wall cladding made from concrete.
This stylish and contemporary platform is the site of a fashion house founded by Edouard Vermeulen, in 1983.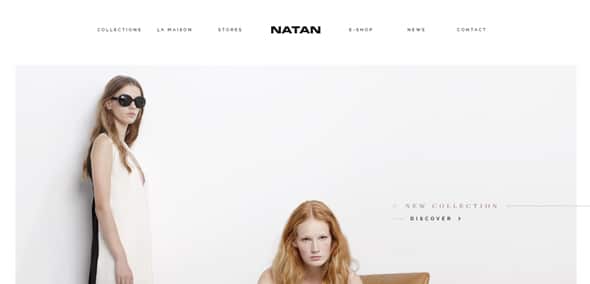 Oxford House is a creative production agency. Their lively site presents the agency portfolio through photos or videos.
This gorgeous interactive site is taking the user on an animated holiday adventure.
This impressive site is one of the best online greeting cards for 2016, made of web-toys by Make Me Pulse.
This dynamic, lovely site features, in a fun way, the assortments of Tolia ice cream.
Portraits by B&O PLAY is a photographic exploration of the harmony between consumer wearables and fashion. Users can click on each one of the six portraits and examine it.