Top 10 Predicted Design Trends for 2017
Add to Flipboard Magazine.
The world of design is ever-evolving. Styles and aesthetics ebb and flow as new eye-catching designs come in and old favorites lose popularity. Some trends stick around awhile, while others start with a bang but quickly burn out. While we predict that some of the trends from 2016 will have some staying power for the new year, there are plenty of new trends to keep an eye on. In 2016 we saw a spike in "new retro" designs, which pulled inspiration from the 1980's and 90's, and tons of abstract geometric designs. 2017 will most-likely see designers straying away from these trends in favor of more modern aesthetics.
As we're on the verge of 2017, it's time that we shed those antiquated design trends and begin to incorporate fresh ideas.
10. Striking Typography
Typography can make or break a design. And the upcoming year will focus on type in a big way. As in, "go big or go home." Last year there was quite a focus on handwritten fonts, and in some settings, it will continue to be used. But large, bold letters and creative placement will take center stage in 2017. Typography is no longer just about making words pretty. It's about making a statement.
In the example below, the designer intentionally uses a large, but rather plain font. It immediately draws attention. But by placing smaller text in an unexpected area of the design, the viewer's attention is drawn to a meaningful double message. This type of "surprise" will likely be a common trend in design this year.
Elizabeth Gilpin, Tatiana de Pahlen & Carolina Cavalli's YOUth
Times New Roman by Pedro Arbeláez is another example of how typography will likely be used this year in design. Times New Roman is one of the most commonly known fonts, but the designer uses it in a way that creates new interest by playing with placement and by splitting the letters up. Using a much smaller size of the same font in the middle of the design brings a new curiosity to an old standard.
Times New Roman by Pedro Arbeláez
9. Painterly
Designers are beginning to take cues from the world of fine art to create gorgeous works that look like they came right out of the Louvre. Dramatic brushstrokes and compositions that mimic watercolor paintings are the cornerstones of this trend. When skillfully executed, this trend can be a modern masterpiece.
Take, for instance, Mireldy Design's business card for illustrator Mateja Kovač. The cards feature abstract paint splotches in a beautiful and bright color scheme that pops. This style, against bold typography (see 10), creates an impactful, memorable design.
MATEJA KOVAČ Illustrator Branding by Mireldy Design
Koa Organic Beverage's website uses a different approach. By using stunning textured gradient from yellow to blue, the designer achieves a style that looks like watercolor paint on paper. Even the background looks to be painted on paper, creating a cohesive piece.
Koa Organic Beverages Website
8. Illustration
Illustrations have taken a backseat in the world of design. It was a trend for quite a while, and then it fizzled out. But customers are becoming more interested in personal, authentic relationships with businesses, and designers will be drawn to creating designs that seem homemade and more personalized. We predict that illustrations will be back and better than ever.
Cloudberry expertly includes illustration into their professional website. This site is proof that you don't have to go over the top with illustrations. Especially for more business-oriented brands, subtly is key. A few key illustrative elements can make a user feel that a brand is more down to earth.
Cloudberry Creative's website
Fabrizia Posada created her very own business cards, and illustrated them to match her brand perfectly. As an illustrator, it was important for her to easily convey her creativity to potential customers. She even wrote her contact information by hand, making these cards seem truly personalized.
Fabrizia Posada's hand drawn business cards
7. Monochromatic with a Pop
A lot can be said for a designer that can create a beautiful design simply using a monochromatic color scheme. It's not an easy task as color is one of the most important aspects of design. But a monochromatic color scheme with a little extra flavor can easily create drama and interest.
In this banner, created by Esteban Simone, the chartreuse color scheme perfectly accents the illustrative aspect of the piece. Despite being layered over the illustration, the colors are a used as a base, allowing for the centerpiece to capture the viewer's attention.
Esteban Simone
Yum Tang uses two design elements that would ordinarily be subtle: pattern with a monochromatic color scheme. But by using a bright neon complementary color, the design becomes interesting and full of life.
Yum Tang
6. Bold, Bright Colors
Bold color schemes have been popular for some time now, and for good reason – bright, vibrant colors beg for a viewer's attention. An eye-catching color scheme can really make a design pop.  Because bold colors seem to be so irresistible, we expect to continue to see them in 2017.
Benevolent Society created an awe-inspiring set of designs, from balloons to business cards. The bright, fun colors immediately jump out at the viewer, but are not over the top. The designs are balanced by the consistent color scheme coupled with plain white backdrop. The designs work together seamlessly to create a beautiful package.
Benevolent Society
SPOO, a creative portfolio website designed by Oussama Yamine uses bold colors, but focuses on a very limited pallet: bright red and teal with white accents. By using a few choice colors, the vibrancy of the design is powerful, but not overwhelming.
SPOO by Oussama Yamine
5. Minimalism
The idea that "less is more" rings true with minimalism done right. Minimalist designs are all about striking the right balance. The piece must be simple enough to call attention to itself, yet interesting enough to keep that attention. Often this is achieved by using negative space.
As you can see in Andrea Minini's Whales, the design is very simple, but what makes it so special is the use of line and negative space to mimic depth. The lines of the small whale intertwine beautifully with the larger whale to create a focal point.
Andrea Minini
Verena Michelitsch's website is another great example of minimalist design. The website uses a simple grid format, which showcases the designer's work. The simplicity of the layout allows for the images to be more impactful.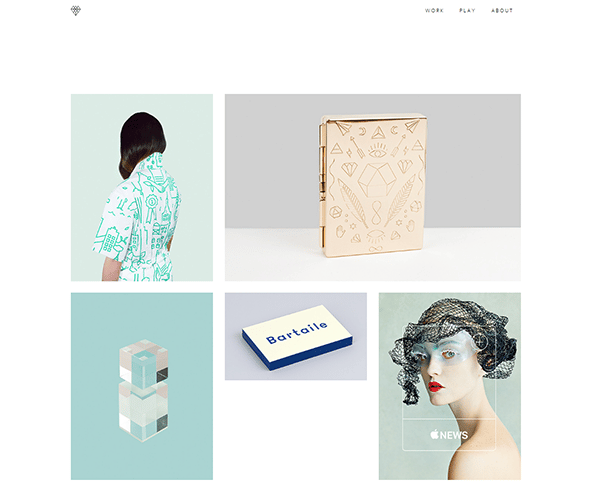 Verena Michelitsch's website
4. Pattern and Texture
Playing with patterns and textures will be a big design trend in 2017. What's most exciting about this trend is that designers can really get creative and take inspiration from just about anything. From combining stripes and florals, to creating silken or craggy looking textures, the possibilities really are endless with this trend.
As seen in these wedding invitations designed by Petra Kern, inspiration comes from crystal geodes. The texture almost seems palpable, and as a nice touch, Kern added a bit of gold to the design. This textured card goes perfectly with stripes.
Petra Kern
Lucie Blazevska designed this packaging for Mayicha Tea. The abstract line pattern almost has a texture to it. It seems soft in some places, and then hard in others. She expertly finds a balance between the two to create a superb design.
Mayicha Tea Branding and Packaging by Lucie Blazevska
3. A Modern Spin on Pop Art
Pop art is kind of a culmination of the design trends that we predict for the upcoming year. From bold, playful colors, to repetitious patterns, we anticipate that we will see more Warhol-esque design elements this upcoming year.
The out-of-the-box photography highlighting the creative team at Gillias Agency is a perfect example of how pop art will be used in the upcoming year of design. It doesn't have to be overstated. A little touch here and there is perfect for brightening up a design.
Gillias Agency website designed by Daniel Pervaiz
Jude's Ice Cream's website design is reminiscent of the repetitions found in pop art works. The bright, pastel colors, and the perfectly aligned ice cream containers make this design good enough to eat.
Jude's Ice Cream website
2. Flat
Flat has run the gambit for a couple of years now, and it's not going away anytime soon. It is both aesthetically pleasing and quick to load, making it extremely user-friendly.
SimpleFlex, a WordPress theme by ThemeLuxe perfectly shows how great a flat design can look. As you can see, it incorporates some of the other 2017 trends, such as bold colors, and illustration. But what makes it so special is the easy to navigate, straight to the point design.
SimpleFlex WordPress theme
Another fantastic example of a flat design is the Alfred website. You may notice that it is similar to the SimpleFlex theme. That's because this layout is attractive, and provides simple navigation. Again, illustration is used to add interest to this rather to the point design.
Alfred website
 1. Motion
Motion is our top prediction for 2017. More and more people are beginning to watch videos and share gifs. People are becoming more fascinated with motion than ever, and it is time for designers to begin to incorporate movement into their works.
In this gorgeous example, Ramotion Agency creates an artistic front page, perfect for an art studio. The design is intriguing, keeping the viewer there longer, which likely leads to more clicks.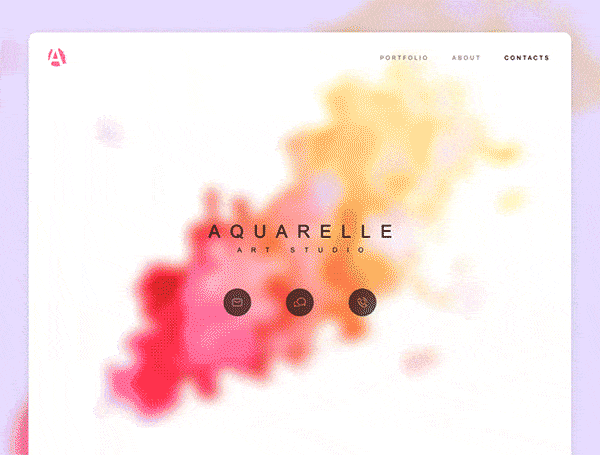 Aquarelle website by Ramotion Agency
In this example from Loeffer Randall, the designer uses just a flicker of animation to bring the design to life. Again, with an animation, the graphic keeps the viewer's eyes occupied, which leads to more engagement.
Loeffler Randall sale
There are plenty of new and exciting trends for 2017! What are some of your design trend predictions?