If Design Blogs Were Vehicles, What Would They Be?
Add to Flipboard Magazine.
If design blogs were to be transformed into motor vehicles (Transformers style!), what would they be? Now's your chance to find out! Here's a roundup of your favourite design blogs along their mechanical counterparts, each comparison has been scientifically matched on general theme, style, persona and character – Which one do you think is the best fit?
Smashing Magazine
Smashing Magazine is the juggernaut of the design blog world with huge traffic and subscriber statistics. As a multi-author blog Smashing Magazine pumps out high quality articles throughout the week and touches on various design related topics.
Smashing Magazine would be a… 18 Wheeler Semi-Trailer Truck
Six Revisions
Six Revisions is a popular design blog that focuses on Web Design and Development. Its clean and sophisticated grey website design allows the content to take centre stage with usability and accessibilty being carefully considered as part the overall build of the site.
Six Revisions would be a… Mercedes Benz CLS-Class
Tutorial9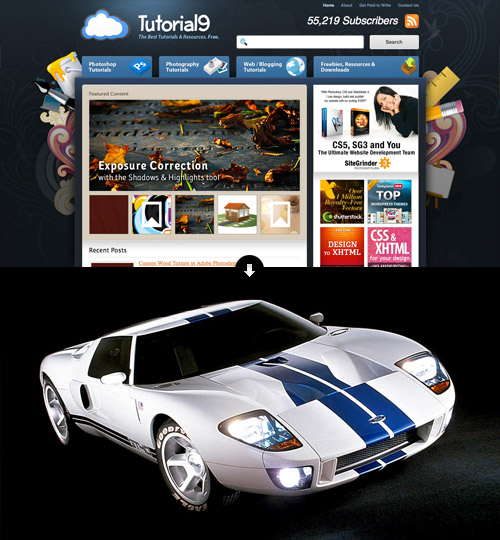 Tutorial9 boasts a cool blue theme with plenty of illustrated elements. The blog presents stacks of useful articles and tutorials for designers and photographers, not to mention a large collection of free downloads and resources.
Tutorial9 would be a… Ford GT40
GoMediaZine
Go Media's zine showcases their design and illustrative talents through project insights and tutorials. Go Media's apparel work and design for various metal bands never lacks in awesomeness, often containing plenty of skulls and detailed hand-drawn linework.
GoMediaZine would be a… Custom Chopper
Colorburned
Colorburned features some of the best resources, freebies and resources for designers on the web. There's no shortage of hand made vectors, patterns, textures and brushes to download and use to create your own graphic artwork.
Colorburned would be a… Ford Customline Hot Rod
Blog.SpoonGraphics
The brown and beige Blog.SpoonGraphics is home to weekly Illustrator and Photoshop tutorials that take your through the step-by-step process of creating all kinds of design styles for both print and web.
Blog.SpoonGraphics would be… Steve McQueen's Ferrari Lusso
Web Design Ledger
Web Design Ledger posts the best collections of resources and roundups of design inspiration. Written by web designers, for web designers, it's the place to go for daily tips and snippets of knowledge.
Web Design Ledger would be a… Porsche Carrera GT
Line25
New to Line25? Stick around if you enjoy fun articles like this, or for a series of useful step-by-step web design tutorials. If inspirational posts are your thing, every Friday sees a fresh Line25 Sites of the Week collection.
Line25 would be a… Audi R8 Le Mans
Boagworld
The number one web design podcast Boagworld is broadcast from the rural depths of Dorset, with the design of the site itself staying true to its roots with grassy textures, rolling fields and the odd cow.
Boagworld would be a… Tractor
Soh Tanaka
The CSS and jQuery whizz Soh Tanaka has an alter ego as a Los Angeles street dancer. His dark urban themed website is tricked up with all kinds of cool effects and design features, many of which are documented and shared via his blog.
Soh Tanaka would be a… Toyota Supra
CSS-Tricks
Chris Coyier shares all kinds of CSS and jQuery knowledge on his popular CSS-Tricks blog. Not to mention his uber-useful videocasts and tutorials, as well as the busy forums which are full of like-minded CSS designers and developers.
CSS-Tricks would be a… Dodge Ram
Web Designer Depot
Web Designer Depot became hugely popular right from day one and now sits as one of the most trafficked design blogs out there. Another multi-author site this blog consistently pumps out various design showcases, tutorials and inspirational roundups.
Web Designer Depot would be a… Ford Mustang
Web Designer Wall
Nick La's ornate and detailed watercolor floral design on Web Designer Wall still suits the site perfectly and hasn't dated since the design was implemented during the site's launch years ago. Web Designer Wall is home to plenty of web design tutorials, trends inspiration and giveaways.
Web Designer Wall would be a… Volkswagen Camper