30 WordPress Portfolio Themes to Promote Your Work
Add to Flipboard Magazine.
Need to get a portfolio online to showcase your work? Not too hot with all that complicated website design code? A ready-made WordPress portfolio theme is just what you need! The WordPress application is a breeze to install and maintain, and with this collection of 30 portfolio themes you're spoiled for choice on design. All the themes featured here are top quality and are tailored specifically for designers, photographers and creative businesses.
Canopus – $40
Blogfolio – $39
Masculine – $40
Carousel – $60
Hoarder – $50
Momentum – $45
PhotoTouch – $39
Folo – $39
Sensation – $40
Cubano – $40
Ambition – $60
Viewpoint – $40
Scrollider – $70
Lovo – $35
Elefolio – $70
Un Altro – $40
Olya – $70
Daisho – $45
inFocus – $45
Gigawatt – $60
King Size – $50
Dandelion – $45
Simplicity – $70
Unite – $45
Gridlocked – $50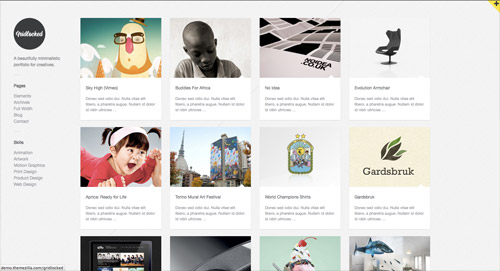 Fullscreen – $39
Co-Porlio – $45
Knead – $60
Feather – $45
SCRN – $35