14 Amazing WordPress Themes to Use in 2017
Add to Flipboard Magazine.
Unless you've worked with WordPress themes before, it can be difficult to be confident you're making a good choice. There are so many to pick from, that trying to find the best of the bunch can be overwhelming.
Here's a two-step process that will lead you to a choice you'll be more than pleased with; as will your clients:
Look for features that you can't do without.
Starting with a list of best 2017 WordPress themes; then, drill down to the one(s) you want.
Your overwhelming task just became uncomplicated.
Step 1 – What to Look For:
Look for a theme that's modern and aesthetically pleasing. It is more likely to have staying power, and can used for a long time.
SEO ready is mandatory. Websites need to be SEO-friendly to draw significant traffic.
Look for a theme that is easy to customize. It gives you flexibility, and saves time.
Check for fast, reliable support. If you ever need it, good support can be the difference between success and failure.
Take time to learn what people say about the theme. User and expert reviews are best.
Step 2 – Check Out this List:
Be Theme – Responsive Multi-Purpose WordPress Theme
Be Theme is big, beautiful, and extremely popular. This multipurpose WordPress theme is so rich in features and design options that it would be a real challenge to envision any style or type of site that you could not build with it.
Much of Be's popularity is based on its library of 230+ pre-built websites. These designed-with-care, pre-built websites touch on all the common website niches, types, and styles. They serve admirably as conceptual designs; and UX functionality is embedded in them. They can be installed with one click, they're completely customizable, and the fact that UX functionality is already will save you lots of time and effort.
Page building and editing is taken care of by Muffin Builder 3 (with Visual Composer as an option) and the Muffin Options panel. No coding is required, thanks to the many available options and more than 200 shortcodes. Be's Layouts Configurator will get you started if you choose to start a project from a blank canvas.
User support is tops; by any measure.
The Core – Multi Purpose WordPress Theme
Designed by professionals for professionals, The Core consists of a highly-sophisticated set of design tools and features. Don't let that put you off if you're a relative newbie at web design.
The Core's performance is smooth and intuitive, no coding is necessary, and you'll have no trouble working with it from the get go. The Core handles the technical aspects of the design effort; leaving the fun and creativity up to you. Excellent user documentation is provided.
All that's needed to get a project off and running, is to select one of the 20+ demos. It takes but one click to import a demo, and there's a variety of website styles and topics to choose from. Since the demos are totally customizable, all you need is the Visual Builder and your creativity to create one crowd-pleasing (and client-pleasing) web design after another.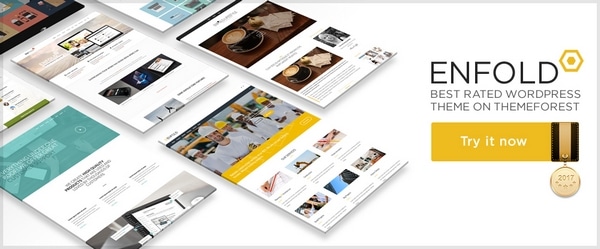 If you feel overworked, stressed out, and deadlines are becoming a problem; maybe you should give Enfold a whirl. This multipurpose theme is popular with all skill levels because its ease of use has made it a proven productivity enhancer.
Enfold is a ThemeForest best-seller. It is packed with cool demos; so cool-looking in fact, you'll almost hate to change them. They are meant to be changed of course, and they are totally customizable. If you wish, you can select elements from more than one demo as you build your design. Another useful feature, Enfold's portfolio template selection, is also worth of a mention.
You won't miss deadlines, and you can even do some rapid prototyping to give a client an indication of the finished product. It's a good way to get feedback and keep communication lines open.
Houzez – Real Estate WordPress Theme
Houzez is a specialty theme for the real estate niche. You can often expect better results by using a specialty theme, and Houzez is no exception.
Its features and functionality will enable you to build a professional looking, high-performance website for a real estate agent or agency that has all the required features and functions; and do so quickly. You won't find Houzez' key features and elements in many other WordPress themes.
Divi 3.0 is the latest version of this popular high-performance WordPress theme. Popular from its initial launch because of its modern and innovative features, Divi's sales increased dramatically with the introduction of Divi Builder in version 2.0.
This frontend Divi Builder's interface has been significantly upgraded in Divi 3.0, together with the ability to produce live responsive previews anytime during the design process. Divi 3.0 is a high-quality, premium theme, in all respects.
As more clients are showing preferences for one page themes these days, it only makes sense to include Hestia Pro in your toolkit.
This Material Design theme is WooCommerce and SEO ready, it's fully responsive, and it comes with a top-of-the-line page builder. Viewing the online tutorials should convince you that as far as one page themes are concerned, Hestia Pro packs a solid punch.
KLEO – Pro Community Focused, Multi-Purpose BuddyPress Theme
     If you've been holding off taking on building a community-oriented website because you lacked the right tools, Kleo is the solution you've been looking for.
With this WP theme, it's no problem at all to set up a forum, a section devoted to activities and events, an ability to log in to social media sites, and more. You won't find community-oriented capabilities like these in most WP themes.
Uncode – Creative Multiuse WordPress Theme
Uncode is for creatives; both users and agencies. This becomes apparent when you see the emphasis placed on attention to detail that has gone into the design of this WordPress theme.
Of particular note is Uncode's impressive selection of web-building concepts to help you get your projects started. After that, unique features like the advanced grid system and hierarchical options system help you build pixel-perfect sites your clients will love.
TheGem – Creative Multi-Purpose High-Performance WordPress Theme
TheGem is touted by its creators as the ultimate web-building tool box. The design elements, styles, and features in this WordPress theme, would seem to bear that claim out.
With TheGem, you can build a high-performance website in minutes by simply using your creativity, and not having to rely on any coding whatsoever. This carefully-crafted product could be looked upon as the Swiss Army Knife of designed-for-creatives WordPress themes.
     Ultra is Themify's most flexible and powerful multipurpose WP theme. Included in its many features are new pre-made demos sites, and a selection of design skins that you can use to give your sites a special, eye-catching look.
With a single click, you can upload a demo, complete with settings, menus, widgets, and the works. This can be a genuine time saver when creating clients' sites.
Impreza is a multipurpose WordPress theme featuring a rather unique set of demos. They may be few in number, but they give you all the flexibility you need. Examples include a mobile app demo, a one page demo, and a minimal shop demo.
Impreza's exclusive header builder is impressive as well; but it's best to see this WP theme for yourself, and Impreza invites you to take it for a free test drive.
XStore – Responsive WooCommerce Theme
If you've been tasked with producing an online store for a client, XStore, with its 40+ good to go shops is a perfect answer.
Pick a shop that looks like a good fit, do the necessary customizing, and you'll have a professional-looking online shopping experience up and ready for your client in no time. Since UX functionality is embedded into these shops, the building process will be a cakewalk.
     Kalium has more than a few things going for it. This WP theme is crisp, it's clean, it's easy to use, and it features the minimalist approach that is currently in vogue as a hot design trend.
Kalium is designed for use by web professionals, but if you're new to the game don't let that stop you. Its unlimited options enable you to turn out one professional-looking website after another.
TheFox Responsive Multi-Purpose WordPress Theme
Clever like a fox is an apt description of TheFox; a multipurpose WordPress theme that is smart, flexible, and bursting with cool features. ThemeForest built upon a collection of its best-selling PSDs, and came up with TheFox.
The 30+ cool pre-built home pages, plus Visual Composer, a host of design details, all the web-building features you need, and no need for coding, makes this selecting WP theme a clever choice indeed.
Summing it up
Whether it's one of the premium multipurpose theme, or a more specialized theme you're after, you can't make a bad choice from this selection. These premium WordPress themes are considered the "Best for 2017" for a reason.
Some are new and some have been around a few years, but each lives up to its reputation for top performance and ease of use by all skill levels.